Sunday 28 September - Frankland Arms, Washington
The sun was shining though the air was rather cool as Colin, Linda, Gill, Keith, Chris, Phil and Mary left Walberton Pond on Sunday morning. We took the route through Binstead to Arundel where we crossed the footbridge by the station as the main road bridge was closed. We took the Khyber Pass route to Amberley and then on to Pulborough Brooks for coffee.
Chris departed after coffee. Colin led the group around the north of Storrington, crossing the A283 to take a minor road that crossed the A24 on a high bridge leading to Washington church where we stopped for lunch. Keith left for the Frankland Arms, but we subsequently saw no sign of him when we dropped down to the pub for a drink.
After discussing the possibility of climbing to Cissbury Ring and the merits of embrocation, we returned on minor roads to Storrington and then headed south past an ornately-carved wooden gate, through a hedge, crossed the B2139 and entered Parham Park. We then continued through Rackham to the new tea rooms at Amberley Village where we enjoyed large cups of tea (with real milk), tea cakes and tea bread.
We crossed the Arun at Houghton Bridge and then headed west again to Bury and continued to cross the downs via Duncton Hill. Finally, we traversed the ridge to Whiteways before dropping back down the hill to the Goodwood Circuit and returning to Chichester.
Total distance for the tandem was 105 kilometres – a good run considering a fair amount of off-road and climbing was involved.
PT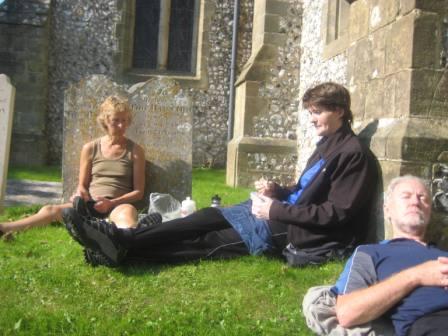 Posted by RideLeader at 20:37 BST
Updated: Monday, 29 September 2008 21:09 BST