Sunday 22 February. Ride to Compton
There were 2 rides today a morning only ride led by Arthur to East Wittering and a longer hillier ride scheduled to go to Steep nr Petersfield. The weather started sunny and frosty with some ice and went downhill from there to wind and rain by the afternoon and temperatures up to only 6C.
I was joined at Chichester Cross for the 9.00 start by Sam, Jeff and Mark.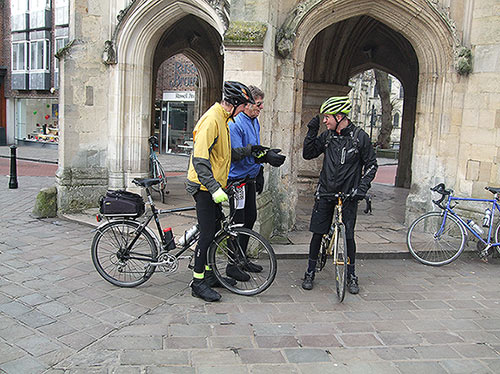 To avoid any ice on the Centurion Way I headed out via North Street and then up the B-Road a ways before taking a lane up to West Stoke and quiet lanes to Funtington. We stopped there briefly for a hand warming stop (where did that bus get to!)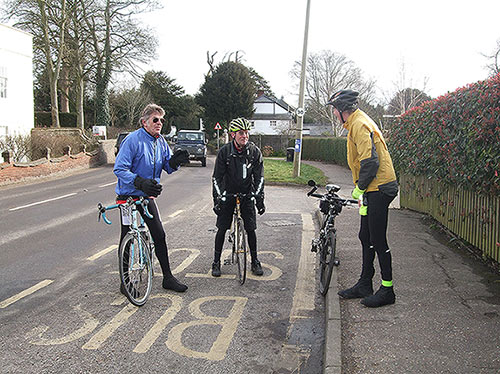 Then it was on over the hill to Racton and up the B-Road via West Marden to Compton where we stopped for elevenses in the welcome warmth of the Cafe. I had decided earlier to turn back at elevenses due to an eye infection. Jeff was going to take over and lead the others over the Downs. However having entered the Cafe in sunshine we came out to dark clouds and the first spots of rain. The others decided to join me in a morning only ride. The very light rain continued during our return though it later turned out to be localised to the area west of Chichester and was in advance of the main rain which arrived soon after 1.00
From just north of Compton we took a route over a short hill to Idsworth and the lanes via Finchdean to Rowlands Castle. Here Sam and Jeff diverted to the Cafe for a second coffee stop/early lunch. Mark and I headed on back to Chichester via Westbourne and Woodmancote.
Mileage from and back to Chichester was about 27. My mileage from Pagham was 40. I got home with 20 minutes to spare before the serious rain.
Earlier in the week on Tuesday I took the following picture of a Crocus at a small green at Aldwick. It was a bright sunny day like spring, didn't last! The photo method used is called focus stacking with 20 pictures taken a different focus settings and combined together.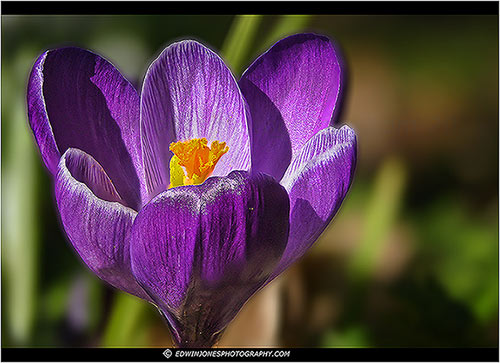 See more at my Photo Blog at http://edwinjonesphotography.com/blog/2015/2/february-spring-crocus-bloom
Edwin
Posted by RideLeader at 15:17 GMT