Saturday 9 April - Bognor Regis to Chichester Garden Centre
Six of us met at Bognor library - Julian, Avryl, Alan, Steve, Carol and myself. Weather was glorious for early April - bright sunshine and temperatures nudging 18 degrees.
We set out along Bognor seafront to Aldwick and Nyetimber (via the usual back routes) where we took Summer Lane and the farmland tracks to South Mundham.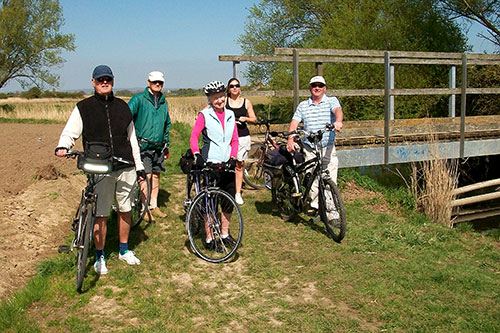 Crossing the Rife at Summer Lane
Some of the terrain was off tarmac, but the ground was hard packed and not an uncomfortable ride.
After South Mundham we proceeded past Runcton Mill to Merston where we took Green Lane. At this point Avryls' chain decided to part company with her bike and the ride ground to a halt.
With the chain in pieces, step forward Dr. Steve with his link extractor, ably assisted by consultant Alan. A matter of moments later the chain was back in one piece and the ride continued.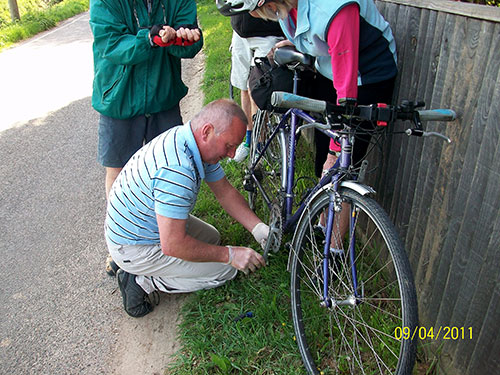 Steve and Alan operate on the patient (note the surgical gloves!)
After our stop at Chichester Garden Centre (the erstwhile Heather's Cafe), Avryl left us to head back to Tangmere (chain still behaving itself!), whilst the rest of us took the cyclepath all the way back to central Bognor.
Round trip mileage was about 14.5, however I did almost 20, from and back to home.
Graham
Posted by RideLeader at 00:01 BST
Updated: Monday, 11 April 2011 15:21 BST