Saturday Ride - 13 December 2014 - Bognor Regis Library to Brick Kiln Nursery.
Quite a few people gave their apologies in advance for this ride, apparently it is Christmas this month and there are a lot of things to sort out. However albeit chilly, it was a beautiful sunny December day - the third Saturday in a row with excellent weather - and this brought 5 out to the start point - Alan, Julian, Graham, Bill, & Nicola.
Whilst there wasn't a cloud in the sky and very little wind to speak of, there was no mistaking it was December - the temperature hovered between 4 and 7 degrees, adding a little bite to today's ride.
There was a Christmas Market in Bognor town centre and the place seemed really buzzing, so we set off by walking through the precinct to check out the various activities.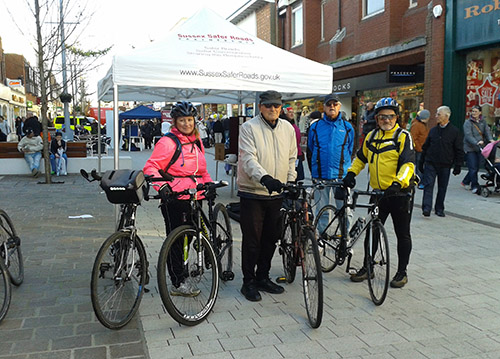 Then it was to the sea front and along the prom into Aldwick, West Meads and the Lower Bognor Road. The usual diversion through Butterlees Farm took us on a very pleasant ride away from the tarmac until we met the road again at Runcton. Then a turn down Merston Lane and Green Lane took us past the massive greenhouses of Groves Farm before we emerged on the Bognor-Chicheser cycletrack at Merston. Then just a short sprint found us at our destination.
The Brick Kiln Nursery had laid some entertainment on, a Jazz trio, although not sure whether this was especially for our benefit or just a part of their run up to Christmas.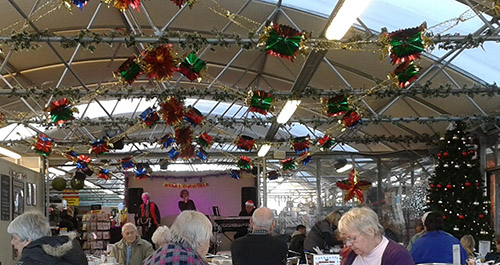 After our refreshment stop, Bill left us to cycle back to Lavant whilst the rest of us returned down the cycletrack towards Bersted. We took the Colworth loop (not too flooded) where we saw a paraglider landing in a field, but with no clue as to where he might have taken off from. Entering North Bersted, we took a route through the new Bersted Park Development to North Bested Street, also taking the opportunity to see part of the new relief road, which opens to traffic this Weds 17th December. Then it was back into central Bognor via residential roads and back streets.
I did over 20 miles this afternoon, but the mileage from, and back to the start point, was about 14.
Graham
Posted by RideLeader at 22:01 GMT