Thursday 1st January. Ride to The Sportsman, Amberley
The weather today was cloudy and windy from the SW and much warmer than of late at 11C. There was a little light drizzle at times but it was otherwise dry.
I was the leader of the New Years Day ride today and I was joined at Walberton Pond by Rex, Bpb and John Rigarlsford.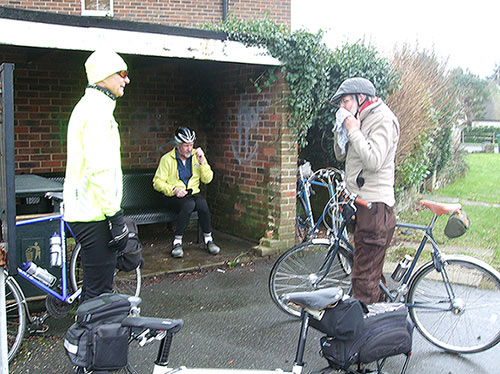 We headed out east from Walberton and then over the A27 which had few cars on it, everybody presumably getting up late. Then it was up Shelbridge Lane to the A29 and on to the lane for Madehurst. We waited for Bob by Madehurst Church where he decided to head back.
Then it was on the lane to Whiteways and then down Bury Hill. Going downhill John got a bad case of Shimmy (vibrating Bike) and only just managed to stop the bike safely. We continued on the lane via West Burton and then cut across to the Fittleworth Road. Then it was another lane across to Coldwaltham. After crossing the Arun we took Greatham Lane to Rackham and on to The Sportsman at Amberley. John Maxim was there ahead of us. There were 9 from Arun Adur arriving later. They were doing the ride as a rendezvous ride meeting for lunch rather than a led ride.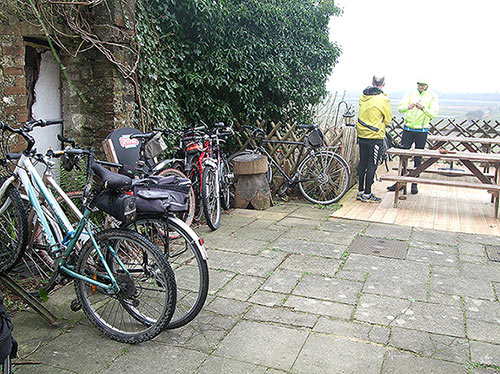 The return ride was more direct via Houghton Hill, Walberton and the A29 back to Bognor. Mileage from and back to Walberton was 22. My mileage from and back to Pagham was 39.
My latest picture to be processed was taken from one of the link passages at the top of Tower Bridge. This is accessed as part of The Tower Bridge Exhibition. Taken with a Fisheye lens.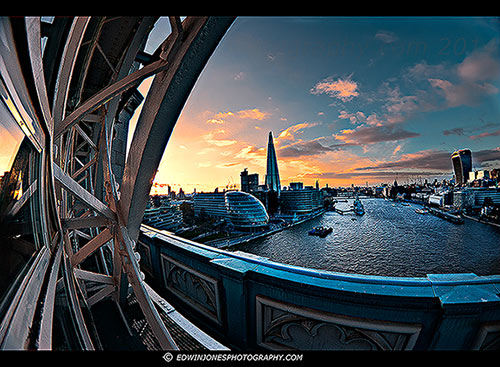 For a larger picture and more details see https://www.flickr.com/photos/edwinjones/16146826765/in/photostream/
Edwin
Posted by RideLeader at 17:50 GMT