Saturday Ride to Russell's Garden Centre Cafe, Birdham
Today's weather forecast suggested light rain between about 2pm and 4pm - right about the time of our ride. However I set off with blue sky above, but by the time I arrived in Chichester, it looked decidedly black.
There were 11 of us at the start - Richard, Bill, Steve, Carol, Graham, Michelle, Dave, Julian, Alan, Liz, and brand new rider Hilary.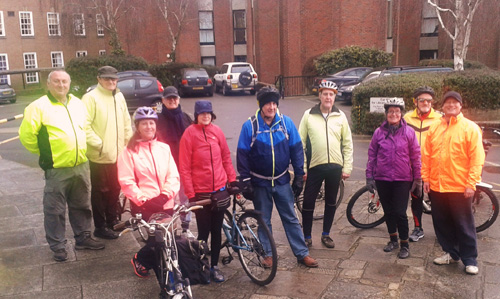 Richard led us from the City Centre, through West Street and down to Appledram Lane where we joined Salterns Way. The off road section was a welcome relief, as there seemed to be an unusually large number of cars about, all anxious to shave a few seconds from their journey time trying to get past our group at awkward spots.
We continued down Salterns Way, which was puddly from earlier rain but perfectly rideable. When we got down to Birdham Pool the rain started. This changed from light rain to steady as we crossed Chichester Canal, and then to heavy as we passed Birdham Church. However a few hundred yards later we emerged onto the main road where it was a short sprint up Birdham Straight to Russell's Garden Centre, and a chance to stay dry.
After suitable refreshments, blue sky had returned and we set off back more or less the way we came, but with a different circuit round Birdham and riding on Appledram Lane instead of the track.
Carol & Steve left us early to head back to Bognor, whilst the rest of us continued back into Chichester. Cloud cover returned, but fortunately we made it back in the dry.
My mileage for the afternoon was just shy of 20; a round trip from, and back to, Chichester Library would have been about 13.
Graham
Posted by RideLeader at 00:01 GMT