Sunday 23 May. Circuit of Langstone Harbour
Yesterday I had finished building up my new Mercian Frame into a complete bike. Today was its first outing. Dry warm and sunny. No rain, no mud so it avoided all the things it will be allergic to.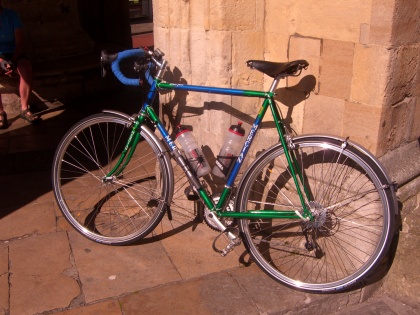 This was the sort of weather we had been waiting for, clear blue skies all day with temperatures of about 21 on the coast with sea breezes and 27 inland. Due to a recurrence of problems with my hip I was taking it easy today going on the flat ride round Langstone Harbour in preference to the long hilly ride to West Meon.
On the Way to Havant for the start of the Langstone ride I stopped at Chichester Cross for 9.30. I had thought they would be going in my direction for a while but Colin planned to get there via Cocking. Colin led a group of 6 in all.Colin, Anne, Gill, Rex and Roger at the Cross and joined later by Chris Dart. I gather they had a good hard ride stopping for coffee up at Rake near Petersfield. Then it was a late lunch at West Meon and tea missed out because Rowlands Castle was closed by 4.00.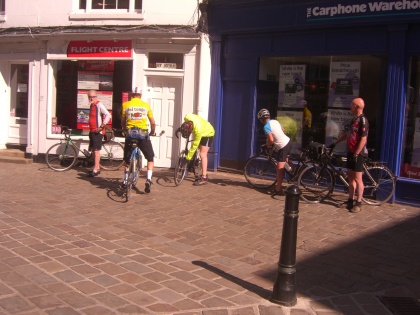 I continued to Havant via Westbourne for the start of the Circuit of Langstone Harbour Ride meeting at Havant Station car park at 10.30. The ride was originally due to be by Richard but as he was away Arthur took over. From the CTC there was Arthur, Lynn, Dave, Jan, Harvey and myself. However Arthur's multiple Moulton connections brought in another 11 so 17 in total.
We rode down the start of the Hayling Billy trail to Langstone Harbour Bridge and stopped for elevenses at the Marina at North Hayling. This has a drinks machine which supplied me with a Hot Chocolate and a few others with drinks before it gave up under weight of numbers and the heat and broke down. After a rest we gathered outside ready to cause chaos on the lanes of Hayling with the poor motorists trying to get past.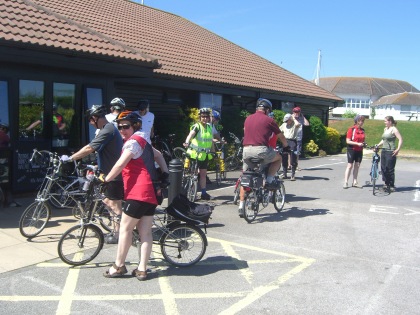 We rode via North Hayling to West Hayling on generally quiet pretty lanes. We then headed for the ferry and an early lunch at the Beach Cafe nearby. Nice location, food anything as long as it's fried. I went for a bacon sandwich.
Anticipating problems getting on one ferry Arthur and Lynn and a few more including myself left early leaving the rest to get the next ferry in 30 minutes. It was a nice smooth crossing and we settled on the other side at another fry up Cafe to wait. I passed up another lunch but did have an ice cream.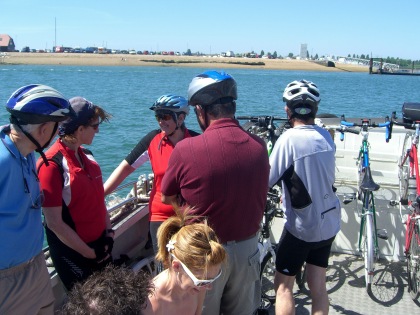 This was Cafe to Cafe cycling at its best. 2 hours since starting at Havant and 3 cafes already!!
The others missed this Cafe as we were ready to go as their ferry arrived. We took a convoluted back street and cyclepath route through the eastern edges of Portsmouth and eventually onto the eastern road cyclepath with a sea breeze tailwind behind us.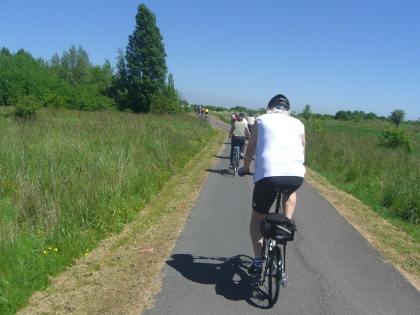 We rode along the cyclepath which follows the northern edge of Langstone Harbour with a stop to regroup at a point overlooking the Harbour.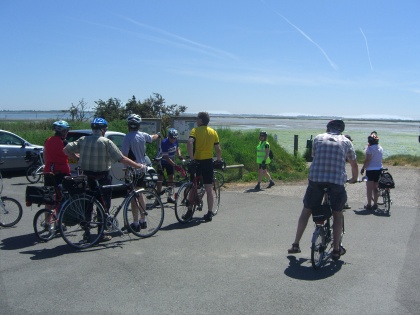 Then we took in more paths with views of Creeks and then a bridge over the A27 and back to Havant. The Tea stop soon after 2.00 was at Havant Pedestrian Precinct. Needs must as the only place open, it had to be McDonalds. It was 21 miles for the complete circuit.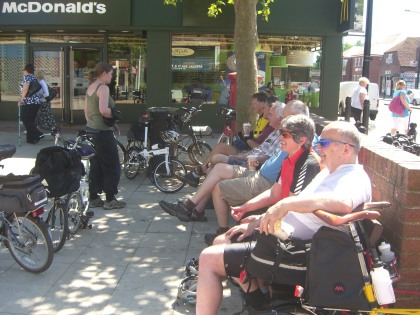 I rode back home with a stop for an ice cream at Chichester canal basin cafe. Got in 5 cafes for the day!
My mileage for the day was 49.
Edwin
Posted by RideLeader at 20:24 BST
Updated: Sunday, 23 May 2010 20:41 BST