Sunday 18th November. Ride to Hambledon.
Report from Jeff Lander
Normally ride leaders keep within + or - 10 % of advertised ride distance. But Colin was leading the 9.30 start today to Lott's cafe Hambledon and he is not normal, so it is best to plan for plus 1/3 . I was up for it ( Jeff ) and so were Sam ( M) , Sam ( F), Gill and Ann .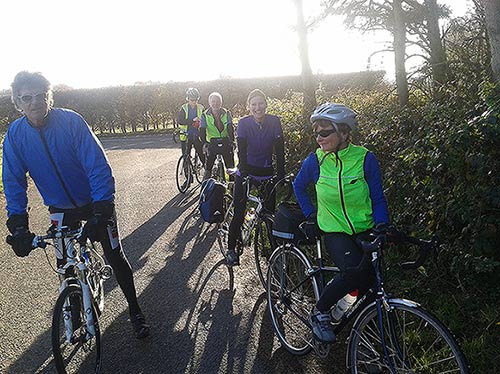 All 6 of us headed out to Rowlands Castle on a perfect winter's day but no stop , onwards to that garden centre around Horndean that sells weak coffee. After that we were led on some great back roads from Denmead up to the ridge and then a variety of back lanes including the cross roads where the traditional sign has been lovingly restored with 5 direction signs for 4 roads. At this point Sam(F) thought she had a puncture but it was probably just low pressure.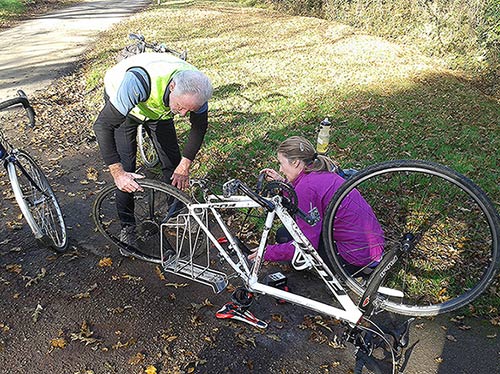 Finally we reached Lott's cafe after about 27 miles. Fine cakes and another dubious coffee ( although I refrained apart from finishing off GIll's bread pudding and consuming some of Sam (F) chocolate drops)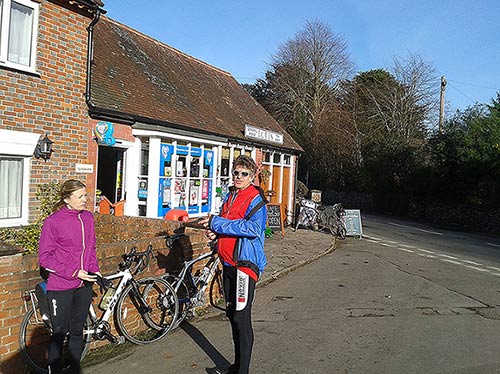 After lunch we rode up the steep hill we enjoyed coming down and then meandered though some empty Hampshire lanes just east of Droxford before crossing over the A3 and down and up to Chalton , onto Forestside then Rowlands Castle cafe for our first real coffee experience . We arrived back into Chichester to a glorious sunset and only 4 miles over the advertised 50 miles. A memorable day . As the rock anthem says 'One day like this a year will see me right'
Jeff
Meanwhile I (Edwin) was due to go to the Bognor Regis Cycling Club (Time Trial Club) Annual lunch in Felpham. Not to miss out on a beautiful day I decided on a morning ride first. I set off soon after Dawn, panniers laden with 2 SLR Cameras to take some Autumn Colour shots near Slindon.
The first two are down a track from the main road on the Spur climb.
Upwards into the trees.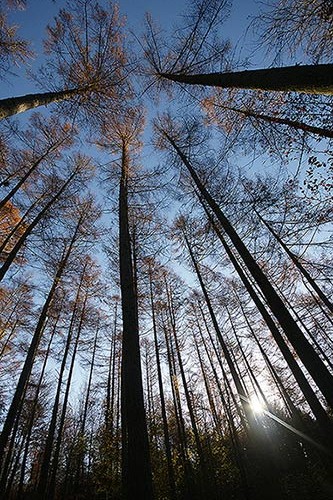 Zoom blur in the Camera.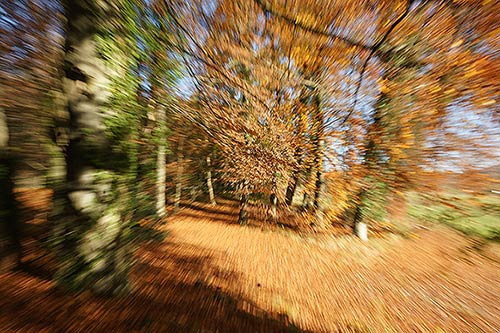 This one is looking along the Slindon Bottom Road, my favourite lane.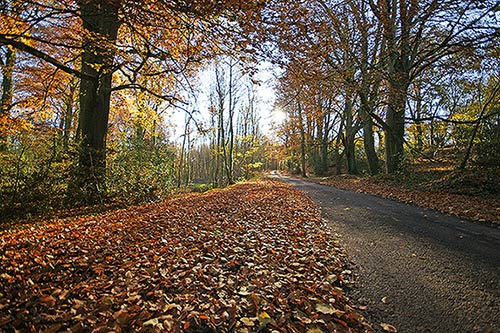 30 miles for the ride plus another 10 for riding to and back from the lunch. On the way back riding along the prom it was a magnificent sunset, all reds and purple. Err Noooo Camera!
Below is another HDR shot taken with my fisheye lens on my last day trip to London from next to The Lloyds Building.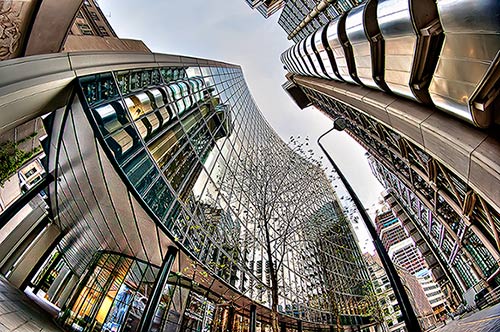 Edwin Jones
Posted by RideLeader at 21:01 GMT
Updated: Monday, 19 November 2012 21:05 GMT