Sunday 27th July. Ride to Forest Green, Surrey
The weather today was mainly dry with light cloud with the sun intermittently shining through and clearer in the afternoon. Temperatures were cooler than of late reaching 24C.
There were 2 rides today, a short ride to Prinsted and this long summer ride to Forest Green, near Leith Hill Surrey led by Colin and starting at 8.00 at Chichester Cross. Colin was joined by myself, Sam, Rex and Chris.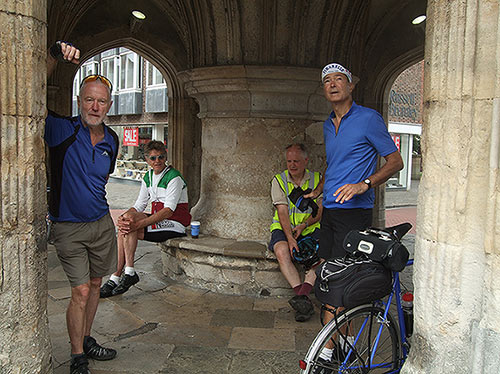 We headed out via Westhampnett and then up the quiet lane to the top of the Downs at Pillygreen before descending to East Dean. After riding along the valley lane we took the main road to descend Duncton Hill and then quiet back lanes via Barlavington and Shopham.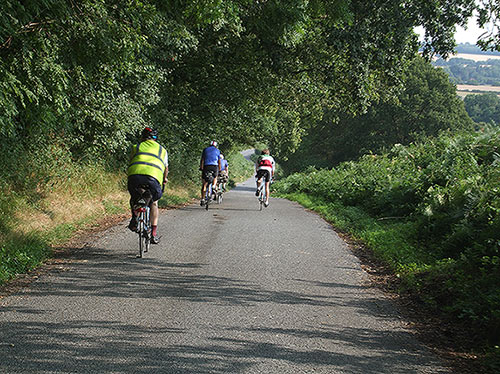 Next it was on via Byworth and a climb on a lane via Brinksole before descending to the village shop cafe at Kirdford for a coffee stop at 10.00 with some of us going for their bacon sandwiches.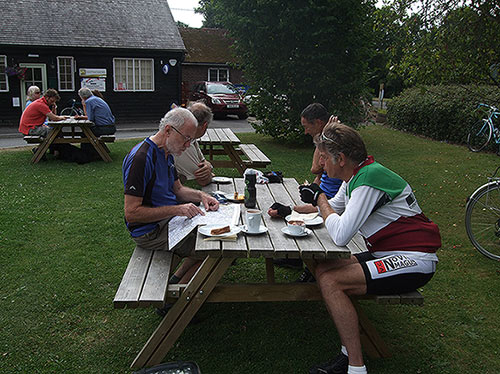 I had decided before leaving home that I wanted a moderate distance today (50 not 90 miles) so I headed back from Kirdford. The others continued north via Loxwood headed for the Parrot Inn, Forest Green where they were due to meet up with Arun Adur Group.
(Colin Reports - Routed up through Lynwick Street , Cox Green, Weare Street , Capel and then UP to the Leith Hill perambulatory road and heading west before dropping down to Forest Green. Arrived about 12.50. Arun Adur arrived about 13.05.
Returned via Ewhurst, Baynards, Tismans Common, Loxwood, Kirdford for tea, Balls Cross, Petworth, Shopham Bridge , Duncton Hill, Eartham, and Barnham.
Chris peeled off down the Downs Link at Baynards to Christ's Hospital and Sam peeled off after Duncton down to East Dean and Singleton.
Arun Adur comprised Richard Boulton, Dave Fox and one other.
About 86 miles for Sam and me, slightly more for Rex)
I returned via Wisborough Green, a track south and lanes to Broomers Hill nr Pulborough. Then it was on via Rackham and Amberley and with time in hand the Khyber Pass route to Arundel with a picnic lunch stop en route. An ice cream stop was added at Felpham seafront at about 2.00 and I returned home with a mileage of 61.
My latest pictures to be processed are below. The first one is corn flowers taken at Lordington using focus stacking (different images at different focus are combined to get all the flower in focus.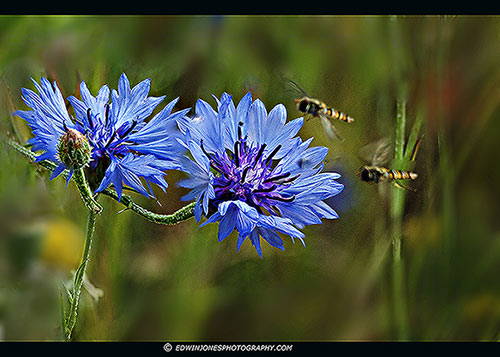 For more details and a larger picture see https://www.flickr.com/photos/edwinjones/14520173139/in/photostream/
The next picture was taken at a wheat field near Pagham by a footpath. Fisheye lens was used, the camera placed in the field and then remotely triggered. Could call this "Mouse Eye View"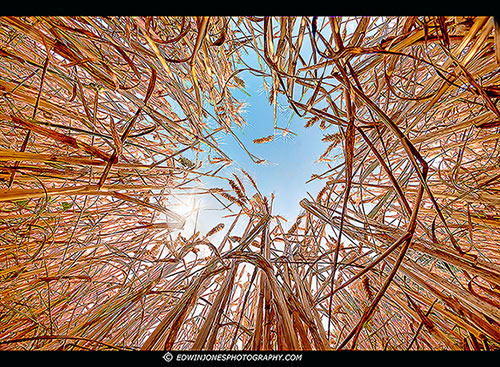 For more details and a larger picture see https://www.flickr.com/photos/edwinjones/14739501942/in/photostream/
Edwin
Posted by RideLeader at 16:26 BST
Updated: Sunday, 27 July 2014 20:57 BST