Arun Leisure Centre to The Walnut Tree, Runcton
Julian has bribed me to send a report in on his behalf
Julian led this ride which saw 10 out tonight - Graham, David, Claire, Angela, Michelle, Russ and Tony met Julian at the start point with John meeting us along the way and Edwin coming direct to the pub from his time trialling.
Our route took us through Felpham and then along the prom through Bognor where Claire pulled up with a puncture. She decided to experiment with the application of some gunk puncture sealant which from previous experience of seeing it used, appears to be extremely effective although it ruins the inner tube. Certainly it sealed her puncture and re-inflated the tyre very quickly. It is sold as a temporary repair although i know of one person who has been riding around on a gunk filled tube for over 2 years which still remains solid and giving value for money. Claire completed the whole ride without any problem so it remains to be seen when she will decide to get the tyre properly repaired.
Having cycled the length of the prom we headed through Aldwick and Barrack Lane, a detour through the Bay Estate and then to Summer Lane at Nyetimber where it was across our regular off-road route to South Runcton.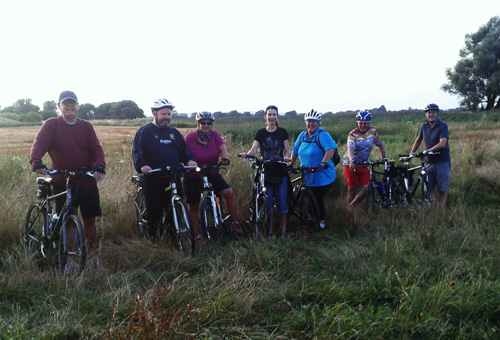 Some lovely quiet lanes followed with a background of glorious sunset before we reached Runcton Mill and the Walnut Tree pub.
After a leisurely drinks stop we returned to Bognor via Lagness along the Lower Road.
My mileage for the evening was 17.8
Graham
Posted by RideLeader at 00:01 BST