Sunday 20 July. Ride to The Hampshire Bowman, Nr Bishops Waltham
The weather today stayed warm with sunny spells in the afternoon and luckily storms thunder and lightning staying away for the day.
Today it was a long hilly ride westward with Sam as the leader. He was joined at Chichester Cross by myself, Colin and Jeff so 4 out on the day.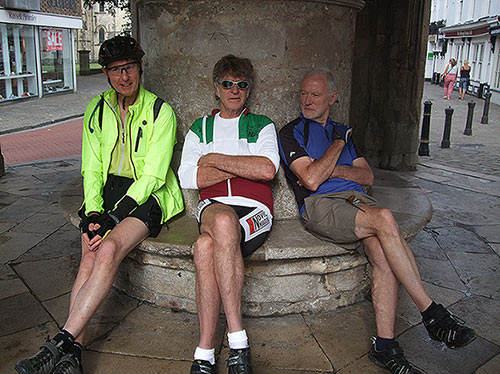 For a change Sam started the day with a fast paced flat ride along the A259 reaching Southbourne in 30 minutes. Then it was inland on lanes via Westbourne, Rowlands Castle and Finchdean. Then it was up Buriton Hill on the easier wooded south side. My compact camera in the low light under the tree produces a long shutter speed resulting in a motion feel in a picture taken riding along.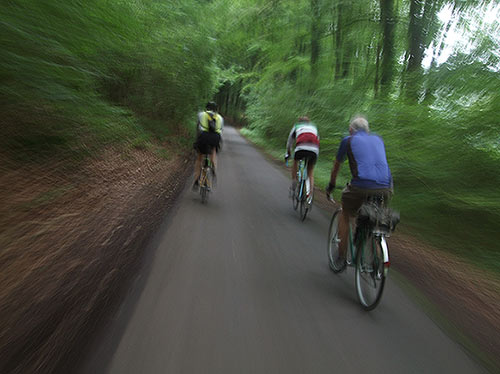 From Buriton it was quiet lanes west to East Meon where we stopped for elevenses at East Meon shop.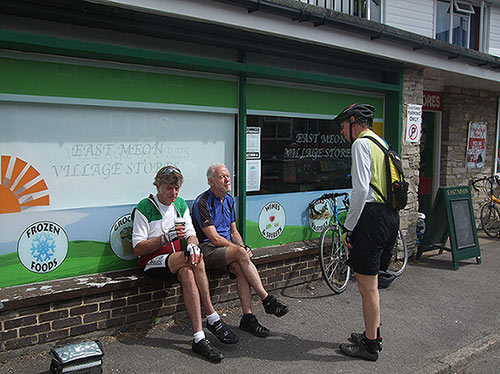 From East Meon the route was up a steep lane to the ridge road running from HMS Mercury to Old Winchester Hill.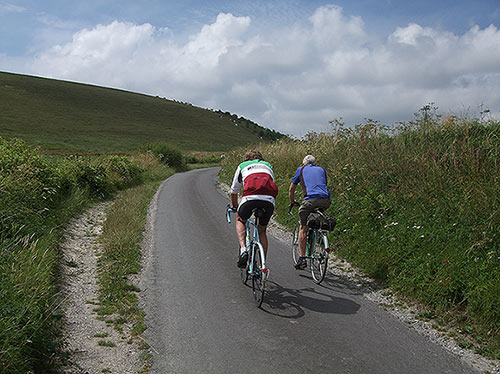 Then we descended on more quiet lanes between downland wheat fields to Meaonstoke and Corehampton. After another climb it was a winding descent on aq beautiful lane to the tiny village of Dundridge and lunch at the Hampshire Bowman. Below Colin and Jeff looking out of a very flowery pub window.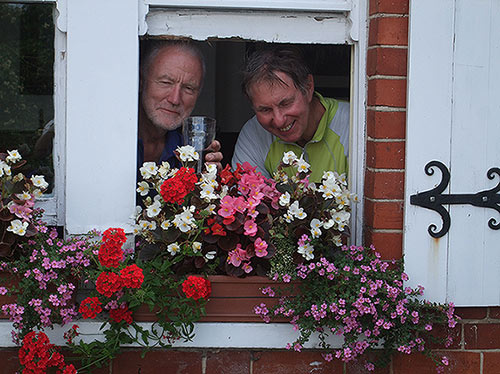 Straight after lunch there was an appropriate steep climb getting to 16% on a quiet lane. Then it was on via Upper Swanmore , Swanmore and Soberton and quiet lanes to Hambledon. Here it was only 2.00 and too early for tea so Sam led us on more lanes to Horndean and then Rowlands Castle for tea.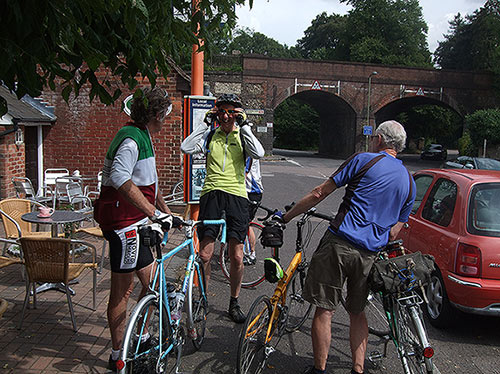 We continued back to Chichester via Westbourne and Woodmancote.
Mileage from and back to Chichester was 60. My mileage from Pagham was 73.
A little over a week ago I took a ride with my Cameras to an Open day for Lordington Lavender neat Walderton which had some great photo ops with a Lavender field plus wild flowers.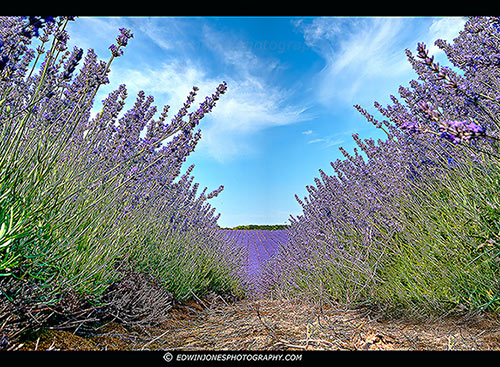 For more details and a larger picture see https://www.flickr.com/photos/edwinjones/14649605791/in/photostream/
Edwin
Posted by RideLeader at 21:27 BST