Lanzarote. Sunday 17th January.
Over the last week I have not been able to do much in the way of hard rides due to a cold. It was probably caught in that colds and flu incubation chamber otherwise known as an aeroplane. I treated myself with Lemsip, packed just in case and 1000mg Vitamin C tablets, 2000mg in the morning and 2000mg in the evening. I managed 3 flat rides along the Prom cycle path, about 17 miles return.
Today I was fit enough to venture back into the hills.
Temperatures since I arrived have been above average for January here. Usually it has been about 23C rather than the average of 20 or 21C. I think it is because the Jet Stream moved south bringing you arctic air and warmer weather further south. Today though it got seriously hot with a southerly wind and maximum temperature of 26C. It was a little hazy on the east coast where all the resorts are but clear blue skies inland.
I cycled inland on the back lane to Tias at 650ft. Then it was another little lane above Tias for another 400ft of climb to the plateau.
I then cycled north along the main road going along the centre of the plateau. There were a lot of other riders out, some in big groups. After passing San Bartolome in the centre of the Island I continued to Teguise bypassing the Sunday market. I turned off on a back road with 500ft of descent back towards the coast.
Then a few miles along an empty service road alongside a main road. A car slowed down beside me and the lady who was navigating tried to ask me directions in Spanish. All the while the husband insisted on driving the car on slowly! Later I turned off onto another back road and a further 500ft of descent to Costa Teguise.
I stopped on the prom for a late picnic lunch managing to find a shady spot to get out of the heat. I noticed a local with a shirt on saying in Spanish something to the effect of Beach supervisor. He was getting around by cycling , pedalling with bare feet doing the occasional wheelie. Somebody has to do jobs like that I suppose!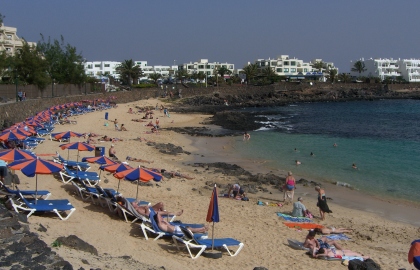 I returned on the coast route past the Desalination plant and through Arrecife. A Sunday is a good time to ride through the city with little traffic around. Then it was back on the prom cycle route with a tea (fresh orange juice) stop at a café.
40 miles for the day.
Scroll down for local Club Rides.
Edwin
Posted by RideLeader at 19:12 GMT