Lanzarote. Tuesday 5th January to Friday 8th January
I flew out of Gatwick at Midday on Tuesday, escaping the big freeze in the nick of time before Gatwick closed down on Wednesday. Temperatures are a little different here. 23C on Tuesday, Wednesday and Thursday and a little chillier today at 19C!
For those coming to Greece in September Thomson had no problems with CTC plastic bike bags and the bike arrived safe and sound. Now well settled in and larder stocked and getting into a routine. Started out with some quite short rides to get back in the swing of things. 15 miles, 17 miles and today 30 miles. Basically climb up 1000ft to the plateau along the top a bit and then back down.
With the aim of building up fitness, on 2 days did some hill climb intervals. Short very hard efforts for about 40 seconds and then rest and repeat. The magazines say this is the best way to get fitter.
Finished the ride today with a stop at Puerto del Carmen Prom for an Italian Ice cream at the ice cream kiosk. Scrumptious.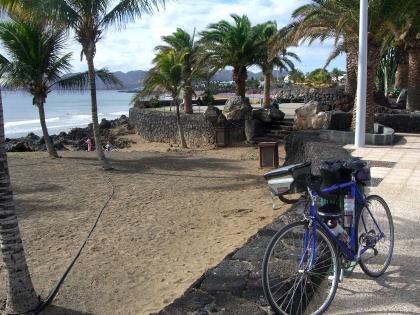 Good news. The warmth here must help with flexibility. Managed to get on and off a bike normally at least with one foot on a kerb.
Back home looks interesting but much better to view it from afar. Used the laptop to listen to the radio and look at snow pictures on News Websites. Also some of the UK papers are printed in Tenerife and available the same day.
Anybody takes any local snow scenes whether or not on a bike ride please email them to me and I will put them on the Blog here.
Scroll down for local Club Rides
Edwin
Posted by RideLeader at 21:44 GMT