Sunday 10th May. Ride to Exton
The weather today was fair with cloud clearing to sun by the afternoon and temperatures up to 15C. I was the leader and I was joined at Chichester Cross by Sam, Jeff, , Rex and Russell so 5 out in all.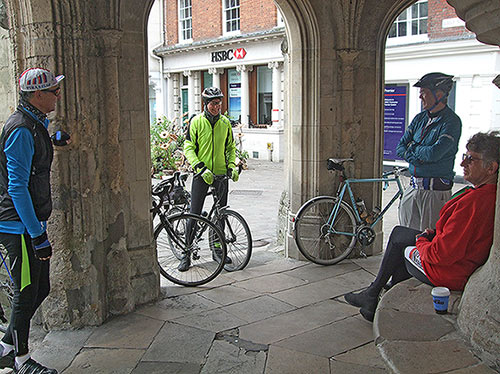 We headed out via the Centurion Way, West Stoke and Funtington. Then it was lanes over to Rowlands Castle and Horndean and on to The Garden Centre Cafe Then it was on lanes via Rowlands Castle to stop for elevenses at Horndean Garden Centre Cafe.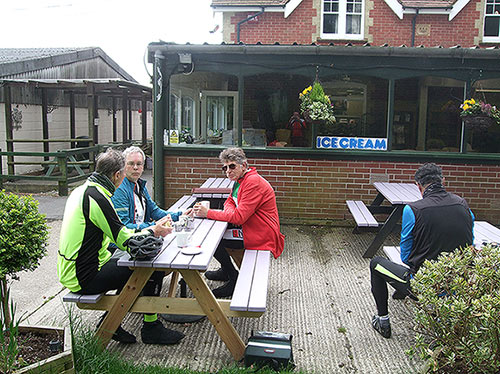 Then it was onwards via lanes towards Cathrington and then a very quiet lane running to the north of Denmead. Then it was down to Hambledon and up a very sharp hill 18% where we started being overtaken by riders on the Hampshire Hilly 100 Sportive' A few though were struggling with their too high gears. Further on their route took them on a longer loop so when we rejoined their route near Soberton I am sure some had to overtake us again. We stopped for lunch at the Shoe Exton with its garden adjoining the River Meon.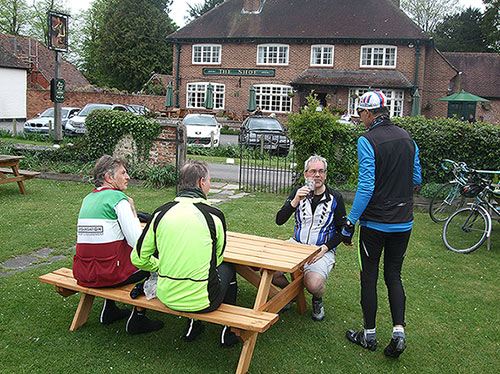 Having arrived for lunch at 12.00 we left soon after 1.00 and as we cycled a hill out of the village we saw Chris Dart coming towards us to meet us for lunch. He decided though to continue to stop for lunch. We continued on a very quiet lane south of Old Winchester Hill and climbed up between trees to Westend Down.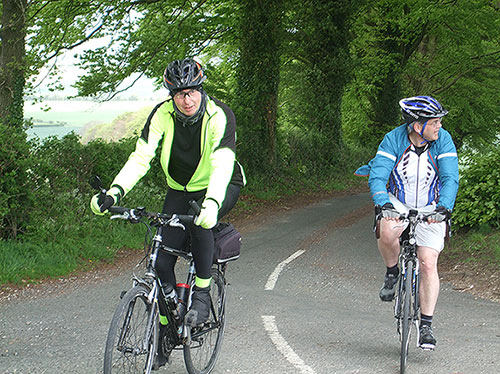 Then it was more lanes via Chidden and on past the Bat and Ball and the location of the first ever Cricket Match. Then down to Clanfield and on via Chalton to Tea at Rowlands Castle. Just getting ready to leave were Arthur, Lynn, Avryl and Graham. They were accompanying Lynn on her first ride of her new Titanium Bike. There was a lot of chat over tea on the popular topic of bikes.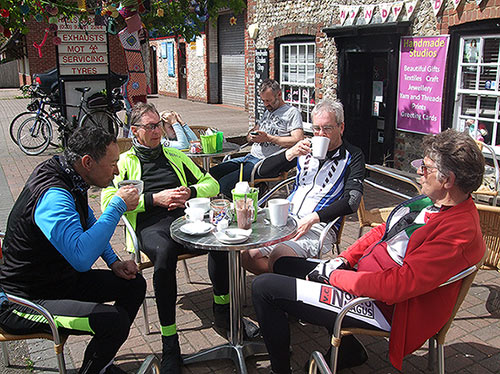 We headed back to Chichester via Westbourne and Woodmancote passing on a lane large amounts of wild garlic on the verge just coming into full smell. Mileage from and back to Chichester was 53. My mileage from Pagham was 64.
There follows a few pictures from the last weekends Isle of Wight weekend. The first one was on the Round the Island Randonnee. Sam is seen climbing up Blackgang Hill as we rode into the very low cloud base. 69 miles that day and 6000 feet of climb.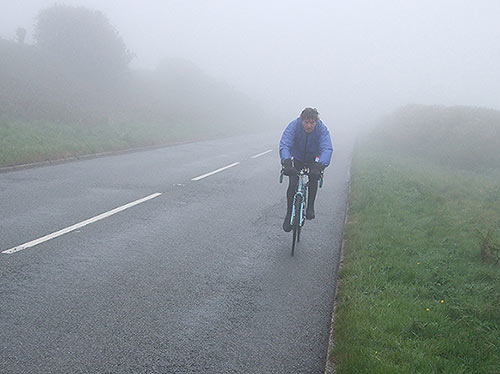 The next picture was taken as we cycled back from Ventnor on the Isle of Wight on Monday and was the first time I have seen a red squirrel. We had stopped for elevenses at the Garlic Farm Cafe, near Newchurch. The cafe had set up a box near the terrace containing nuts. 2 red squirrels lived in a nearby tree and took it in turns to get to the box, open the door and grab a nut.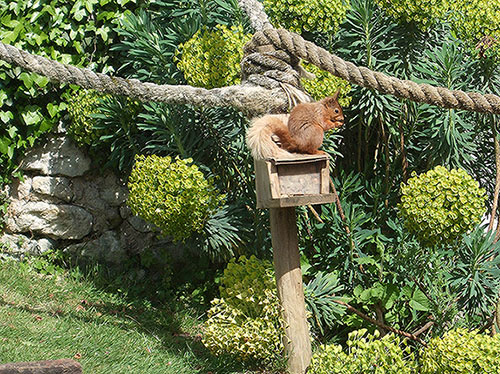 The last picture was taken in London The part on the left started out life as a straight shot straight up of the much photographed Northern and Shell Building on Lower Thames Street, in London. This is also locally known as the Rubik Cube Building and is ideal for this kind of treatment. It was then flipped and both parts copied into a new image and combined. A shot of an edited star scene I had taken earlier was copied into the middle.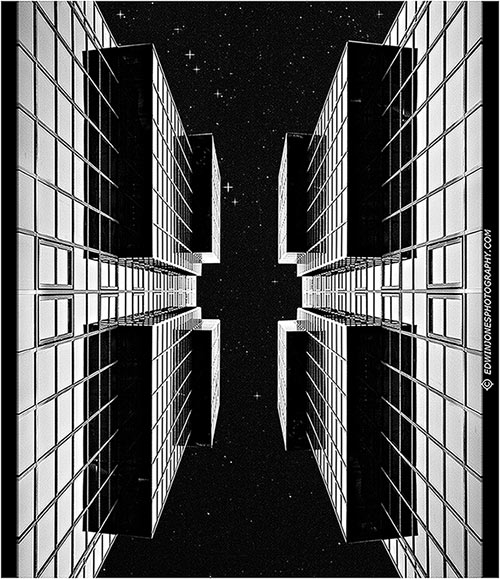 For more details and a larger picture see https://www.flickr.com/photos/edwinjones/17169049567/in/photostream/
Edwin
Posted by RideLeader at 20:14 BST