Thursday 27 June. Evening Ride. Ride to Black Horse, Climping
I received a lot of interest in this ride from people, including some new riders who wanted to come out. However, that was in the afternoon when it was hot, bright and sunny. By 7pm the cloud and wind had increased, the temperature had decreased, and the rain had started.
So there were only 3 of us at the start point - myself, Julian, & Elizabeth.
After some debate, we decided we weren't going to be deterred by drizzle, so we went for it.
I chose a route via Felpham village, Middleton & Elmer, then along the beach to Climping. We were able to ride most of the beach route, but there was still a bit of walking across some of the looser pebbles. A short trip out which was nonetheless long enough, given the poor weather.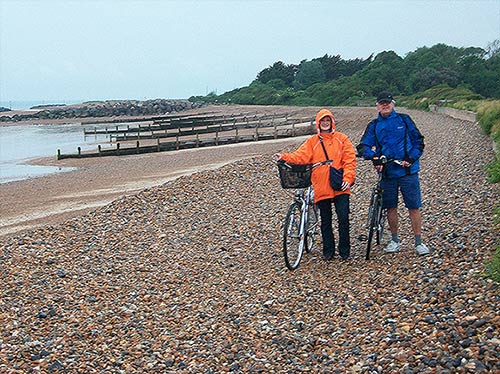 Our return route involved a short sprint along a reasonably quiet A259 to Comet Corner, then Arun Chase, Flansham Park, and back to Felpham.
My mileage was 10.8, every inch of it in drizzle.
Graham
Posted by RideLeader at 10:21 BST
Updated: Friday, 28 June 2013 10:25 BST