Sunday 23 February. Ride to East Meon
Today the weather was cloudy and windy thought dry with some sunshine in the afternoon.
I was the leader and I was joined at Chichester Cross by Sam and Colin. Sam was looking a little chilly in the picture.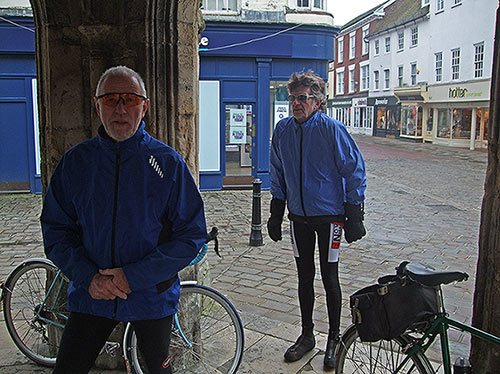 Jeff sent a text to warn roads were flooded at West Marden, Ibsworth and Finchdean after he did a ride yesterday. Quick change of plans and we headed to Rowlands Castle for elevenses. We met John Maxim there though he went home from Rowlands. Sam had been coughing all the way so he also went home.
Colin and I continued by taking the Horndean road and then turning off it to go towards Charton and bypass the flooding at Finchdean. Colin had a puncture after previously suffering one just before Rowlands. It turned out to be the tyre bulging so Colin used a piece of canvas to go inside to stop it puncturing again.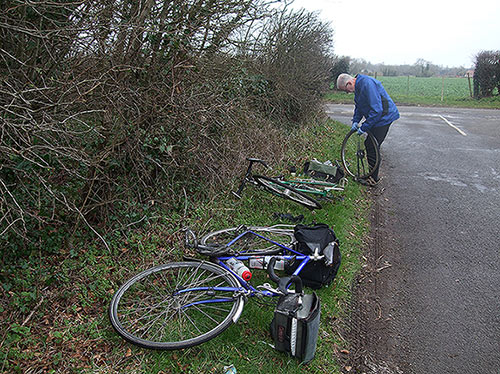 Then it was on via Chalton and up the climb to the A3 bridge. Then it was along the lane up to Butser Hill and the sharp descent to East Meon. Colin and I both had sandwiches so we bypassed the pub and had lunch on a seat by the river which was much lower than I expected. Thanks to Colin for the picture.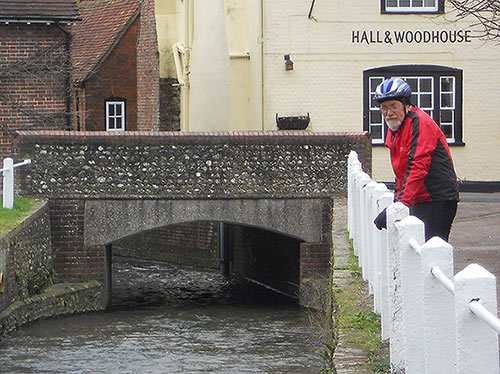 Then it was up the hill on the Clanfield road and turning down on the lane coming out at Hambledon Cricket pitch, at the top of the hill, not at Hambledon village with its floods. Then it was on to Clanfield and for a change up and down through Clanfield village, across the A3 at a gap in the reservation and on via a lane coming out on the Horndean Rowlands Castle road.
The road from Rowlands Castle was closed due to a big flood with a sign warning of prosecution for disobeying due I heard to lorries getting stuck in the deep water.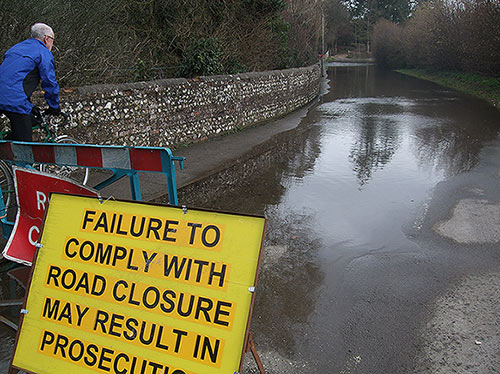 We were able to get through thanks to the higher pavement followed by a footbridge.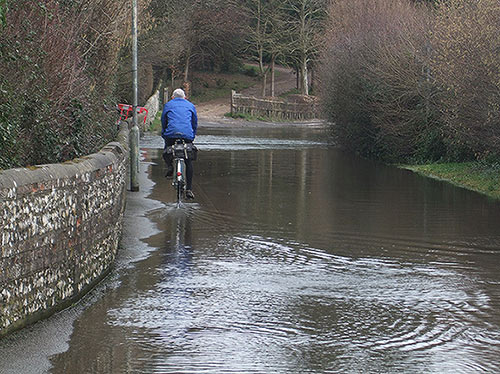 We then returned via Westbourne where the river was a raging torrent and back to Chichester on the South Coast Cycle Route.
Mileage from Chichester was about 46 and my mileage from Pagham about 58.
My latest picture to be processed depicts a viewpoint from a planet about to be drawn in to the Super Massive Black Hole at the centre of our Galaxy. All created from my own pictures taken a little closer to home on Lanzarote.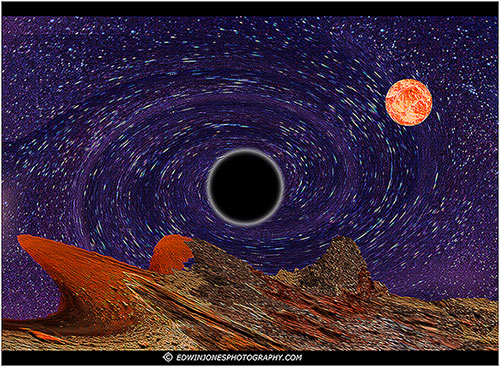 To see a larger picture and how it was done see http://www.flickr.com/photos/edwinjones/12673320705/
Edwin
Posted by RideLeader at 20:54 GMT