Sunday 4th July. 2 Weald Rides
Today was the 2 Weald Rides organised by Horsham Section where riders from all West Sussex Groups met at Wisborough Green and had a choice of 4 approx 25 mile routes. The weather today was sunny in the morning with more cloud building up in the afternoon and temperatures of about 23C. There was a strong SW wind
There were 19 in all with a fair spread from all Sections. From Bognor Chichester there was myself (Edwin) Anne, Colin and also Alan and Liz who arrived later and did the southern route.
After tea and cakes 6 of us set out together on the western route, Myself, Anne, Colin, and John Wickins and Phil and Verna.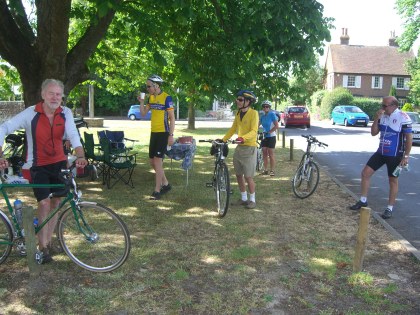 The Western route is challenging (hilly) and probably the prettiest. I did not check the exact amount of climbing for the route on my bike computer but from the total for the day it must have been well over 1500ft which is fairly good for 26 miles.
We took a route west to Kirdford and then a lane towards Northchapel before turning of for Ebernoe. Here in the Woods according to Phil and Verna who did a visit, there is a Bat reserve where many species of Bat hang out in the trees.
We passed the Cricket Ground looking quite parched and on to the main road and a right and then left for Lurgashall. I carefully descended the steep hill where last year on the I-Spy ride my old Mercian came to grief. In Lurgashall village a cricket match was underway on the Green, classic summer country scene.
Then it was more lanes in the Lodsworth direction but turning off for the village of River. This is a very pretty lane with a steep descent to a stream and then a vertical climb up through the village. I got a good start on this and stopped for a picture after the steepest part.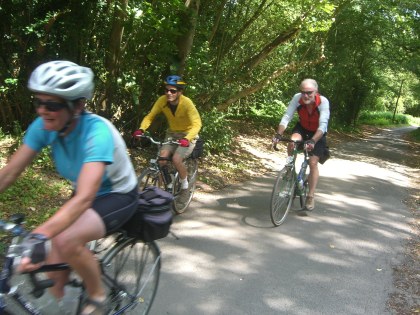 Then it was on up through the village and along a lane which has views across to the Downs.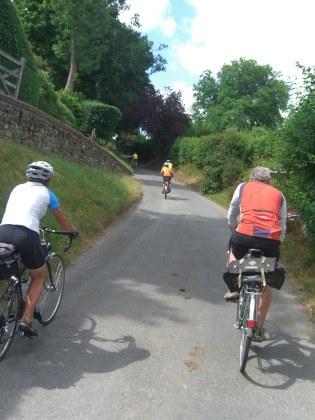 At the end the official route was right to the main road to Petworth. I felt a prettier route would be left on a lane to Tillington and then Petworth. This meant an extra hill thrown in gratis to the group.
At Petworth we stopped for a welcome elevenses at Tiffins. This is always a cheery place to visit where everybody whatever their age is called young man or young lady.
Onwards and it was through Byworth and then a good long hill over the Weald before descending to Kirdford and Wisborough Green. Most of us went to the Café for lunch and caught up with stories from Dave Fox and Richard Boulton of their Corsica trip.
We all made our own ways home some having come by car, train or cycled up.
Edwin
Posted by RideLeader at 17:47 BST