Saturday Ride - Bognor Regis Library to Runcton, Manor nursery -Palm House Cafe
12 out for this ride today, a lovely sunny November afternoon with temperatures at 10-11 degrees but a chilly (albeit light) wind taking the edge of the temperatures.
I was joined at the library by Carol & Steve, Liz, David, Julian, Steve, Mike,Chris, and coming specially over from Portsmouth Bev, Kev, and Paul, who signed up on Skyride, and we hope will join us again.
I took the group through the Hotham subway, over Highfield Bridge and into South Bersted where we took a route through the old
village and to Fairlands. Then it was through newly opened cyclepaths across the new estate and round the wildlife pond to join the Bognor-Chichester Cycletrack. Taking the Colworth loop
(which wasn't flooded, as has been the case recently), we crossed the very busy A259 into Merston village from where a quiet lane took us down to Runcton and the Cafe.
After a somewhat prolonged stop, emphasizing the social side of our rides , I completed a circular route taking our usual cut through Butterlees Farm at Lagness, (pic)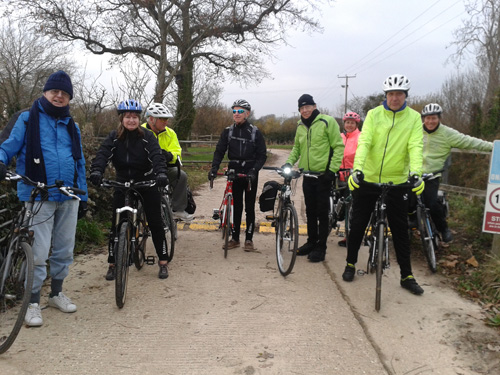 Then it was a convoluted route through Aldwick to end up at the back of West Park. We ended up on the sea front where a brief stop was made to inspect the ruins of the fire damaged Beach Restaurant.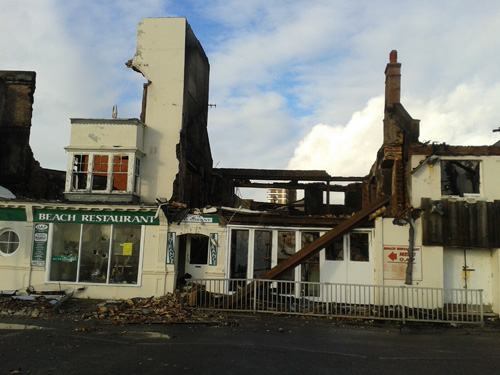 I ended the ride in central Bognor which was very busy with many events, live music, stalls and artificial snow for the switching on of Christmas lights. The round trip was a modest 12.5 miles.
Graham
Posted by RideLeader at 22:08 GMT