Sunday 6 November. Ride to Hayling Island
The weather today was clear and sunny until cloud built up in the afternoon. The problem was the temperature which struggled to reach a maximum of 7C with a bitter NW Wind. The rain forecast for mid afternoon luckily was much delayed not arriving until evening.
Arthur couldn't make it so I was the leader and despite the cold 9 others turned out. I was joined by Sam, Bill, Graham, Bob, Alan, Nick, Linda, Mark and newcomer Steve Wiles.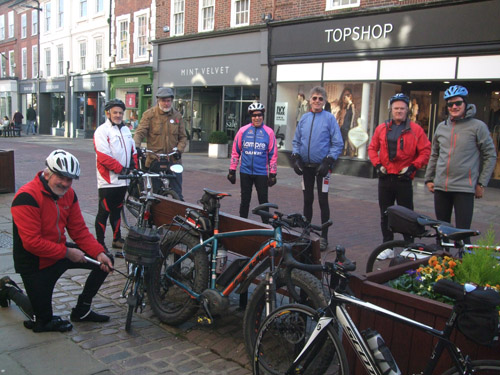 We headed out via West Street and Clay Lane among beautiful Autumn colours. Then it was on via Woodmancote and Westbourne to stop for elevenses at Poppins Cafe Havant.
Then it was on down the Hayling Billy cycle trail and the cycle path over the bridge to Hayling Island. Then it was on via the lane to Northney to our lunch stop at Meadow Farm Nursery Cafe. Despite the time of year and our arriving at 12.10 the cafe was nearly full inside so we adjourned outside which was just about doable in the sun with all coats on. (Memo to future leaders. Ring to reserve a table when at the start)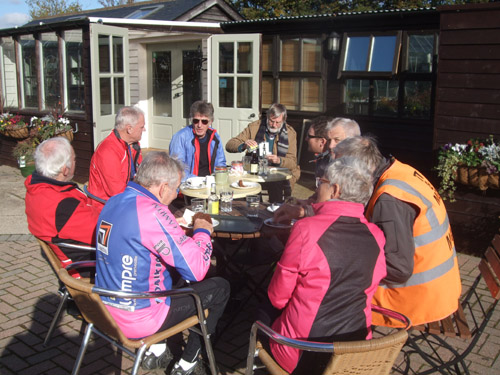 For the return route we retraced via Northney and the bridge and then took the path along the waterfront before turning off on a path heading back towards Havant. At this point Graham had an incident whereby something caught in his rear derailleur bending it and breaking it. He then locked up his bike and caught a 700 bus to Chichester 5 minutes later and returned for his bike by car.
The rest of us rode via Emsworth, Westbourne and Woodmancote. We then took a minor road to come down west of Bosham and took the old road alongside the A259 and the cyclepaths to Fishbourne and back to Chichester. Mileage from and back to Chichester was about 28. My mileage from Pagham was 40.
Next a bit of cuteness with 3 Harvest Mice taken at a Camera Club workshop with various small animals brought to the hall last Tuesday.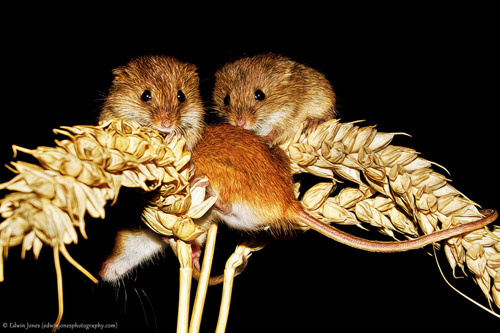 Edwin
Posted by RideLeader at 17:36 GMT