Sunday 31 March. Ride to Rowlands Castle.
Arthur was the leader today and he was joined at Chichester Cross by myself, Harvey, Debbie, Alan, Liz, Avryl, Jan, Gill, Christine, Keith, Sam, Dianne and Brian so 14 out on the day. Lynn joined the group after lunch.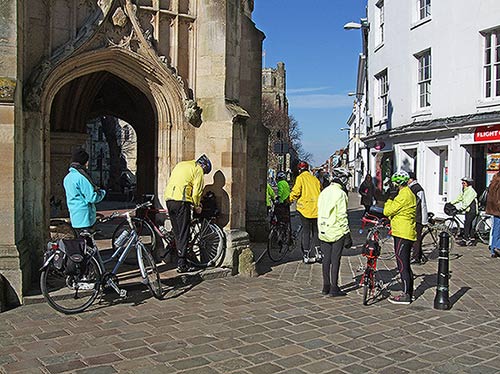 Probably the weather brought everybody out. After weeks of dull freezing weather the sun finally came out with bright sunshine in the morning. It was still cold though with temperatures reaching no more than 7C.
Arthur led us along West Street and over the pedestrian rail crossing which is due to be replaced by a bridge later this year.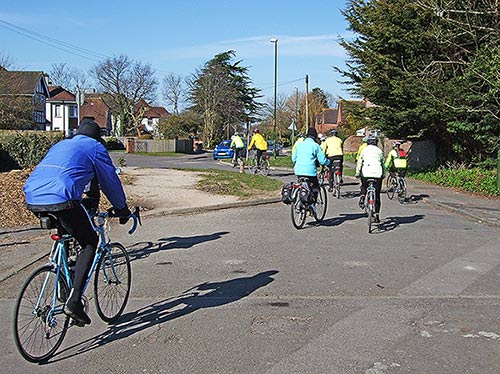 Then it was on the Emperor Way bike path through Fishbourne and on to back lanes to Bosham. We stopped for elevenses at the Arcade Tea Rooms in Bosham. In the sun and out of the wind it was actually warm enough to sit outside.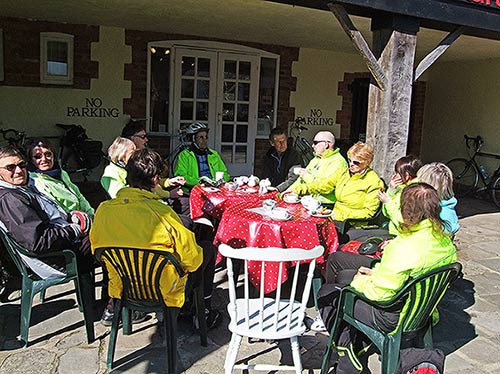 As we got ready to leave Sam put back on his Cat Burglar headgear.
As I was still not fully recovered from a chesty cough I headed home soon after elevenses. Arthur led the rest via West Ashling and Woodmancote to stop for lunch at The Village Cafe, Rowlands Castle.
On the way back the group stopped for tea at Fishbourne Roman Palace Cafe.
My return mileage from Pagham was 25 and the full ride from and back to Chichester would have been about the same.
With far too much time indoors of late my latest Photo is from last year at the Paris finish of the Tour de France. This is one from the archives which I converted into a Line Drawing. Bradley Wiggins is in the middle and Mark Cavendish at the back.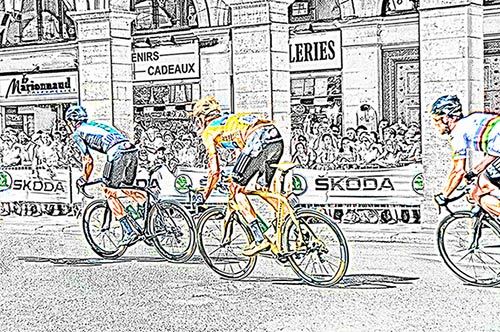 To see how this was done see the Tutorial on my Photographic Website http://edwinjonesphotography.com/convert-a-photo-to-a-line-drawing
Edwin
Posted by RideLeader at 17:54 BST