A long Wet Weekend on the Isle of Wight
This years IOW holiday was attended by myself, Anne and John Maxim. We travelled over on the Saturday, did the Isle of Wight Randonee on the Sunday and travelled back on the Monday. Every day was grey with varying amounts of rain but we managed some good rides.
Saturday started early with heavy rain. This progressed to occasional very light rain. We all made our ways there at different times meeting up for tea at Godshill and apple pie and ice cream. Then it was on to check in at our B&B in Ventnor.
Sunday started with constant rain but clearing up about elevenses. The previous evening I had found I had bad problems with my hip when walking and decided to go about half way round the route and then head back to Ventnor. The hip problem cleared up later in the weekend. We stayed together to start with and got ready outside the B&B.
Then a very steep climb out of Ventnor and on in a clockwise direction along the south coast towards Freshwater. There was an unusual sight near Freshwater as this Steam Traction engine came towards us with Freshwater cliffs in the background.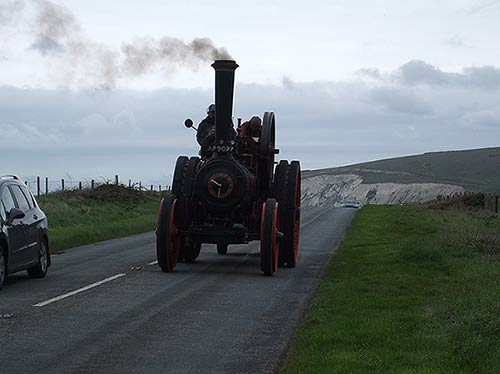 Then it was on with the usual menu of hills to Yarmouth and the Feed control at the School there. They put on a very substantial feed there of sandwiches and cakes to feed the thousands. We later learnt that 1684 took part. A picture here of one of them.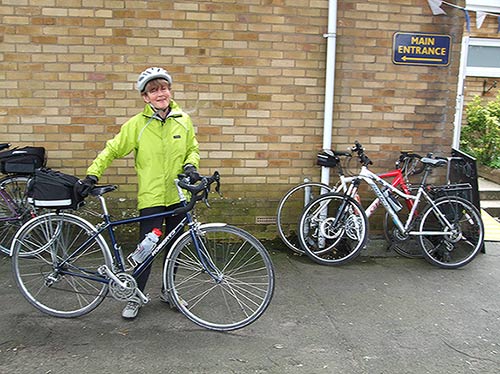 Many hills later we reached Cowes where I cut the ride short with much more in the way of flat routes via the Cowes Newport cyclepath and part of the Newport Sandown cycle path before heading back to Ventnor via a tea stop at Godshill and – of course – another Apple Pie.
My mileage for the day was 55 and the full route which the others did was 71.
Monday started with – heavy rain, of course. I led a ride to take us on some different lanes in the centre of the Island. We headed towards Newport and at one point some horse riders came towards us and one said, "Oh my gosh you do know about that hill don't you. We soon saw the reason for her concern as the road reared up skyward. We got up it and followed some lanes on a pretty route round Carisbrook castle. One lane included a ford.

After a visit to the entrance to the Castle we continued to Newport Town Centre and a stop at some tea rooms for a late elevenses. The rain stopped soon afterwards and we continued to Cowes on the Cycle path and then on to Fishbourne and the ferry back to Portsmouth.
After riding back home from Portsmouth my mileage for the day was 51.
One of my recent pictures from Paris below. This is of the Altar at Les Invalides where Napoleon is buried.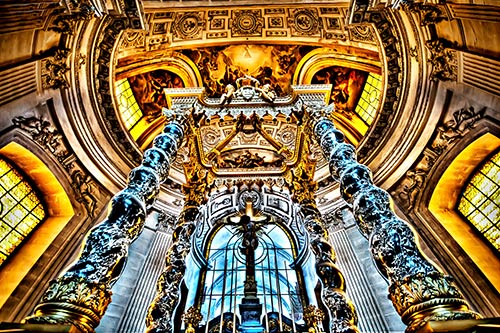 Edwin
Posted by RideLeader at 21:29 BST
Updated: Monday, 7 May 2012 21:34 BST