Sunday 8th March. Ride to Selsey
There was one ride today a short flat one to Selsey. I had not been able to find a leader for the ride and at the time of preparing the Rides List I was not sure if I would be away so the ride was put down as nominate leader on the day. I was around so I led the ride and I was joined at the Cross by Harvey, Samantha, Rex and newcomer Debbie Lord. Gill joined us for lunch so 6 out on the day.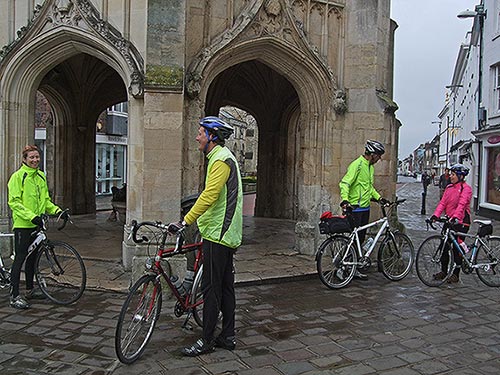 The weather had started off quite wet but it had cleared by 9.00. The rest of the day was cloudy with the occasional spots of rain.
We took a route west from Chichester and down Appledram lane, turning off onto the Salterns Way cyclepath. Then it was on to Chichester Yacht Basin crossing the Lock just as a large Motor Cruiser set off. We stopped for elevenses at Chichester Yacht Basin. We continued via Birdham Pool and Birdham where Samantha headed back.
The rest of us continued taking a track across fields and then lanes via Highleigh and Sidlesham and then the main road straight down to Selsey. We arrived at the Riviera Cafe bang on 12.00. This is the 3rd week running, have to be careful or we will outdo Horsham section. It was just as well though as it was very busy.
Rex headed straight back while Gill joined us for the afternoon. After lunch we headed back up the main road and then before Sidlesham turned off on the Bill way Cycle track. For a change it was high tide so we had views of water rather than mud flats. We continued on the Bill Way, Sustrans route 88 via tracks and lanes to Fisher where we spit up to head home. A short ride as by now it was only 1.45. Distance from and back to Chichester would have been about 22 miles.
To finish here are a couple of pictures I processed during the week taken earlier.
The one below was taken on a trip to London and is a combination of 4 images at long exposures containing 2 different buses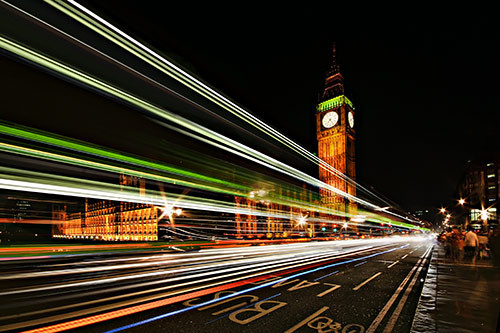 To view large see this picture on flickr at
http://www.flickr.com/photos/edwinjones/7044243303/
The next one was taken a few weeks ago during the time of warmth and clear skies. This was taken in my back garden and is 2 hours worth of star pictures combined later in software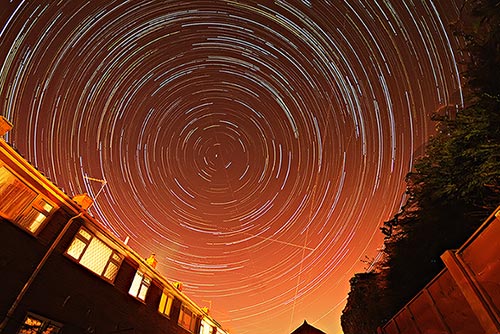 To view large see this picture on flickr at
http://www.flickr.com/photos/edwinjones/7049964083/
Edwin
Posted by RideLeader at 17:35 BST
Updated: Sunday, 8 April 2012 17:44 BST