Lanzarote. Week to Saturday 11th February.
This week has been cloudier and with more wind that usual and cool by Lanzarote standards at about 18C rather than the average of 21C.
My ankle sprain has prevented me riding in the hills yet but flat rides on the coastal cyclepath have been OK.
On Monday Lewis led Joy, Martin, Val and Ern to the south of the Island to Playa Blanca. On the way back they rode over the big climb to Fermes at 1250ft. I led Peter and Harvey on the coastal cyclepath via Arrecife to The Castillo de San Jose above the Port on the far side of Arrecife. The Castle was turned into a Museum of Contemporary Art by Cesar Manrique. The picture below is an HDR of the main Exhibit Hall with the brightly painted top of a piano in the foreground.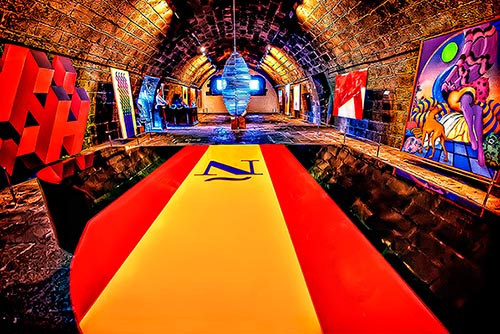 We had a drink in the spacious bar restaurant at the base of the Castle overlooking the Port. After a stop by the Church of Arrecife for a picnic lunch out of the wind we returned with a required Italian Ice Cream stop back at Puerto del Carmen.
On Tuesday Martin did a ride to La Santa and Famara on the far coast while the rest of us stayed put in the high winds.
On Wednesday Lewis and Joy flew home. I led Peter, Harvey, Martin, Ern and Val on a short morning ride along the Cyclepath to Playa Honda between the Airport and Arrecife. We stopped at a cafe for a drink.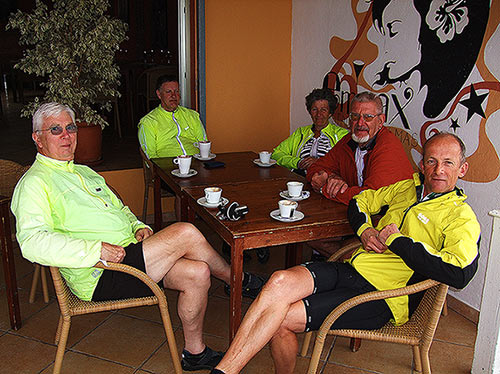 In the afternoon bikes were packed up. In the evening we had a meal in a nearby Chinese Restaurant. This has some beautiful decor as shown in this HDR picture.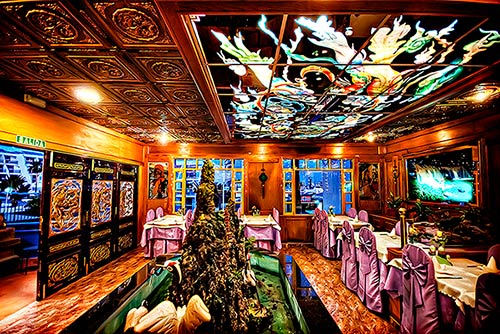 All of us at the Restaurant.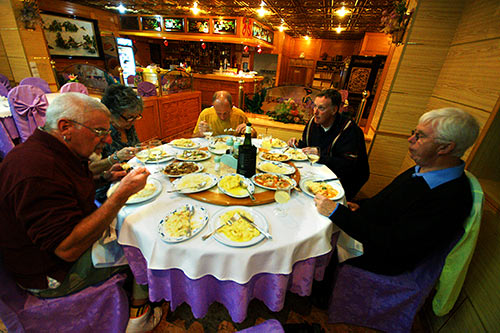 On Thursday the others left for the Airport at 12.30 and I saw them off.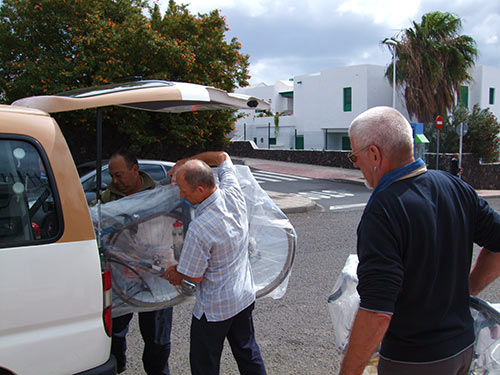 The last couple of days my ankle has improved more and I hope to be back riding in the hills next week.
Below is another HDR picture from last week taken at the entrance corridor to the Mirador del Rio viewpoint.
To view large see this picture on flickr at
http://www.flickr.com/photos/edwinjones/6850568569/
At the next window click the picture for a larger size and click "view all sizes" for the largest. See also there details of the background and the processing of the picture.
Edwin
Posted by RideLeader at 09:36 GMT