Saturday 2nd September. Isle of Wight Day Trip
It was a beautiful day for the Cycle Bognor Isle of Wight special ride with 12 out organised and ably led by Graham.
Out today –
Carol Steve Dave Lucy Andy, Edwin and Graham from Bognor
Chris from Chichester
Carol from Gosport
Colin Bev and Jill from Portsmouth
Total 12.
We met at Portsmouth Harbour Station with some coming by train from Bognor which was on time. We took the Catamaran to Ryde and along with other cyclists sorted the bikes into the bike space.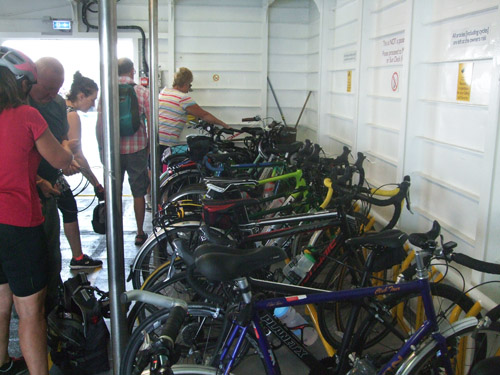 At Ryde we cycled down the pier and regrouped at the Esplanade for a group photo and surprise banner for Steve on his birthday.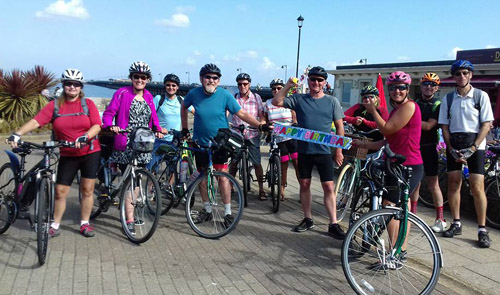 Then it was along the Prom where Graham pictured us from above from the Appley Tower.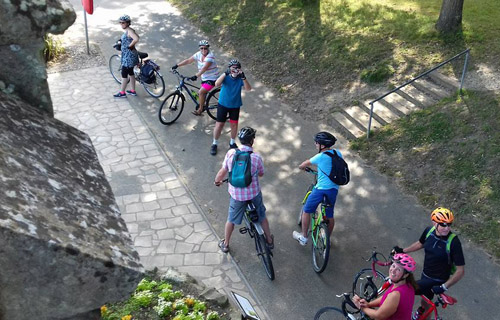 Then on via Seaview and up the first climb of the day along Puckpool Hill and roads just south of Ryde to turn off on an unmade road among vines for elevenses at Rosemary Vineyard at the Vineleaf Coffee shop.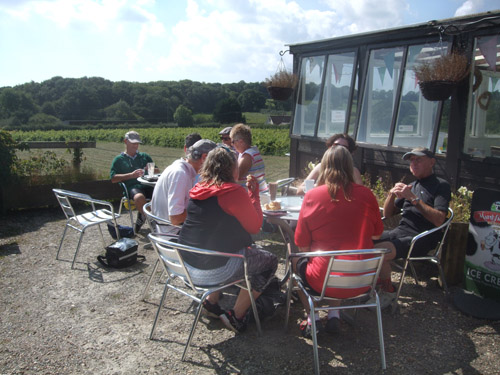 There was some delay in getting going as some took advantage of the tasting room which also seemed to be the objective of the Coaches visiting. Graham then took us on a track to the "Secret Exit" too narrow for coaches . Then it was south onto a road towards Havenstreet but turning off on Firestone Copse lane and down to Wooton where we turned off on a cyclepath on the other side of the bridge.. We took another path from Wooton Station past the Isle of Wight Crematorium and at the main road onto another cycle route alongside the main road and down to Newport for lunch. Here we spit into different groups to varying eateries in the town centre.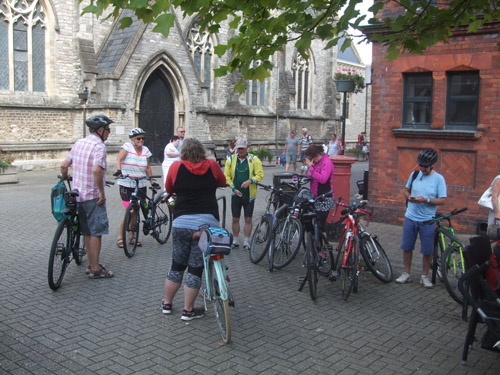 After lunch we headed out again initially on paths and a stretch of main road before turning off on lanes towards Whippingham. Down and up and then back to Wooton Bridge before turning off on a lane where Dave had a puncture and Steve studied the foam instructions.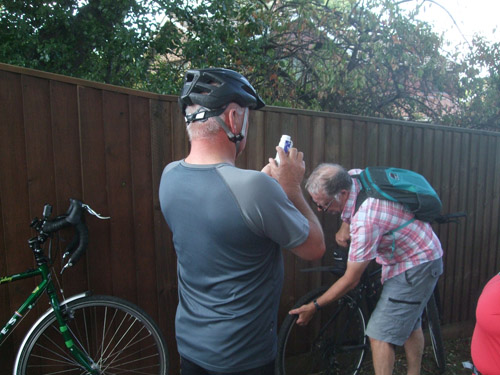 The attempted fix failed a short way further on and the tube was replaced. Soon after the car ferry we turned off on Quarr Lane and on to Quarr Abbey for tea with a photo stop just as we were leaving.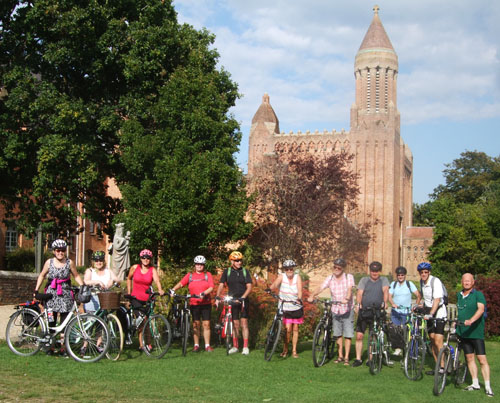 More cycle routes and quiet lanes and we were back at Ryde for the ferry back to the mainland catching a ferry with a few minutes to spare..
25 miles on the mainland. My mileage from Pagham was 35
Edwin
Posted by RideLeader at 00:01 BST
Updated: Sunday, 3 September 2017 16:50 BST