Sunday 30th July Ride to West Meon
The weather for the ride today was pleasant, mainly sunny with some cloud and temperatures up to 19C though with a strong SW wind up to 20mph.
I was the leader for a ride which was due to go to Arlesford but as only Sam turned up we agreed on a shorter Ride to West Meon and a preview of the Ride Jeff will lead at the end of August to Cuppacheeno Cafe.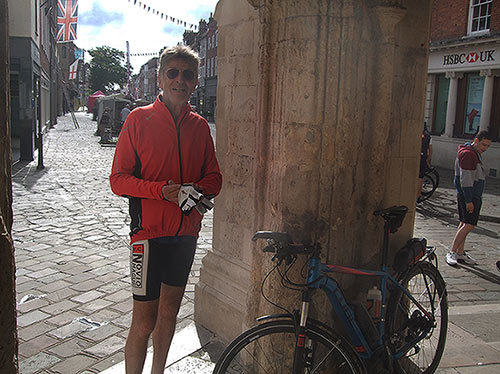 We headed out on the usual lanes via Woodmancote and Rowlands Castle. Then it was on to Chalton and a brief stop and Photo at the well flowered Red Lion Pub.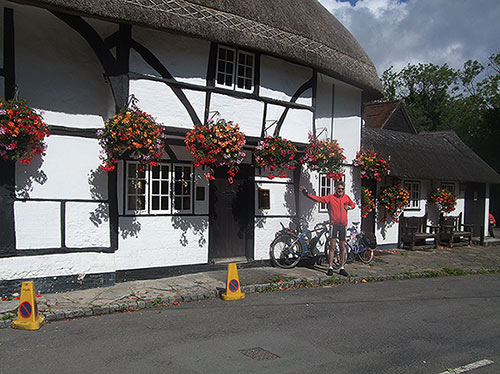 Then it was on to a stop for elevenses at Queen Elizabeth Country Park Cafe which seemed to be inundated with bikes as many others arrived at the same time. From there it was on via the opened last year cyclepath which takes a route well above the A3 towards Petersfield. We came out at the roundabout for the Buriton Road. We turned off for the lane which leads to East Meon and Ramsdean. Here Sam had a mechanical as his electric motor died. A few resets and false starts resulted in the same problem. However the problem was soon found to be the magnet for the speedometer which is part of the control systems. Lacking any data as to what was happening the motor cut out. Turning the magnet into the correct position brought everything back online.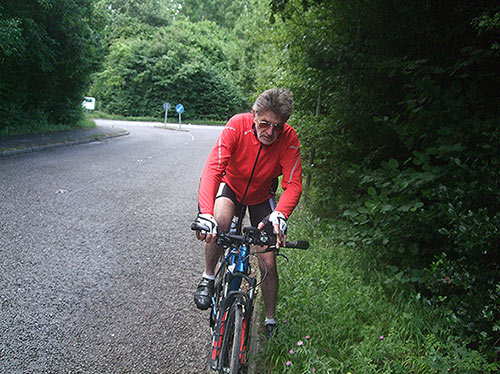 Then it was on up the lane via East Meon which from the debris across the road had suffered from recent rains and we found more evidence of that near West Meon. From East Meon we followed the flat valley road to West Meon to stop for lunch. The cafe is at the back of the village shop with a suntrap terrace and serves snack lunches such as soup or sandwiches. We arrived soon after 12.00 which was just as well as it soon filled up. A girl at the next table volunteered to take our picture.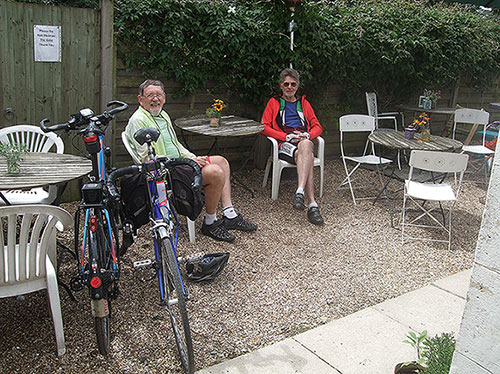 The return took in a beautiful quiet lane via Meon Springs and up to the Ridge Road towards HMS mercury. During the 15 to 20 minutes we spent on this quiet road we didn't see a car and had great views over rolling wheat fields.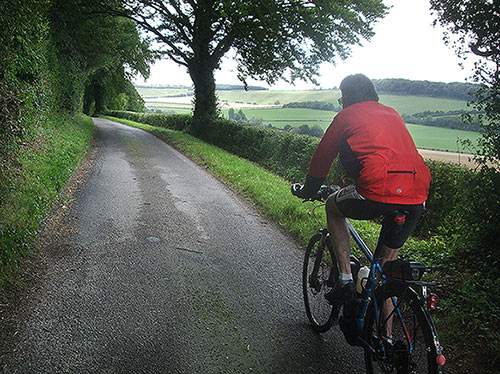 Then it was back via Clanfield and Chalton and a stop for tea at Rowlands Castle where we met up with a group of cyclists from Surrey including Chris Juden who used to work for the CTC and gave technical advice in Cycle Magazine.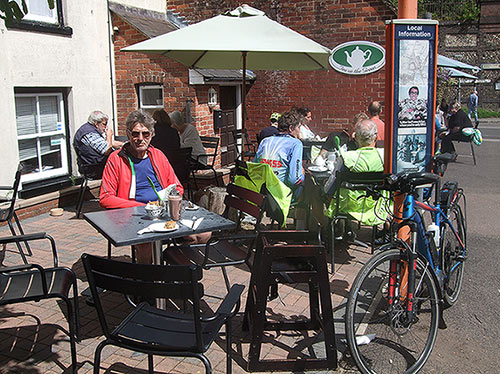 By our return our mileage from Chichester was about 52. My return mileage from Pagham was 67.
My latest picture to be processed was one taken 11 years ago during a cycle tour in the American West. It is a shot taken as we rode down into Death Valley. It was about 100F at the time at 8.30am.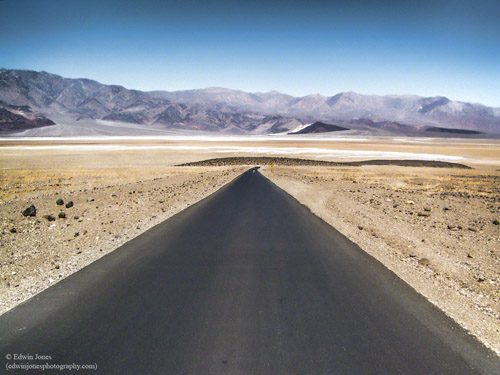 For more details and a larger picture see https://www.flickr.com/photos/edwinjones/35843131630/in/dateposted-public/
Edwin
Posted by RideLeader at 20:28 BST