Thursday 22 June. Ride to the Bosham Inn, Bosham
After the end of the heat wave it was less oppressively hot but still pleasantly warm on the longest but one day of the year. Graeme Hodge was the leader and 8 of us in all met for the start at Chichester Cross.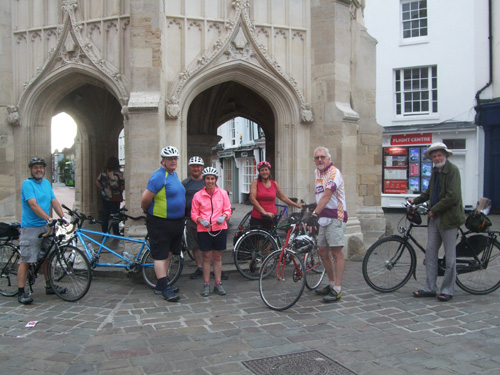 We headed off down West Street with a diversion to avoid the footbridge which is not very tandem friendly. Then it was up Clay Lane. Then it was down Blackboy lane to the A259 which we swiftly left onto the pleasant lanes leading to Bosham Hoe and then round Bosham Harbour.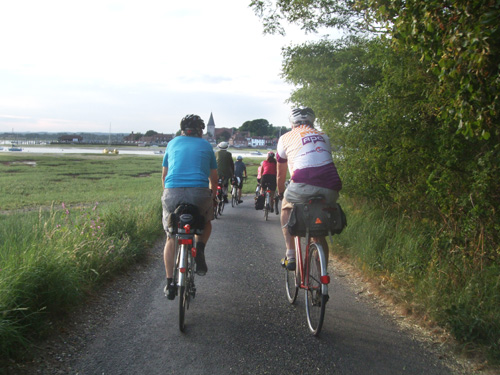 After negotiating some seaweed on the road left by the tide we headed inland via Bosham Lane and back to the A259 which we soon left to take the cyclepath alongside. Some ducking was needed to avoid branches growing above. A little confusion was evident in the group as we sailed past our destination Pub. This was to ensure a longer ride by taking the lane round Chidham.
Then it was back to the main road and on to the Bosham Inn which is fairly large with a good garden.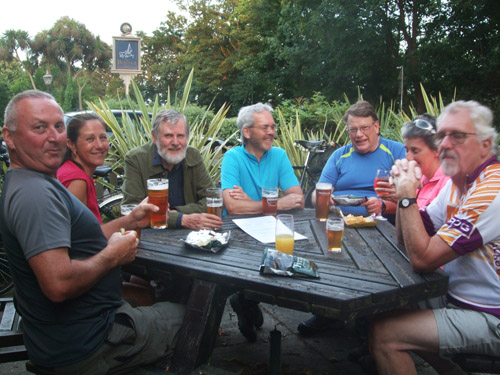 The return was direct down the main road where we found that drafting behind a Tandem much increased our speed capabilities. Back in Chichester we split up to make our ways home.
Edwin
Posted by RideLeader at 10:27 BST
Updated: Friday, 23 June 2017 10:38 BST