Sunday 1 November. West Stoke AGM Ride
The weather today started foggy though not too cool with a few glimpses of sun in the afternoon and temperatures up to 15C.
Most people went direct to the AGM at West Stoke Village Hall. However I led a ride starting 9.30 at Chichester Cross. I was joined by Russell, Bob, Martin, Graham Hodge, Avryl, Arthur and Lynn.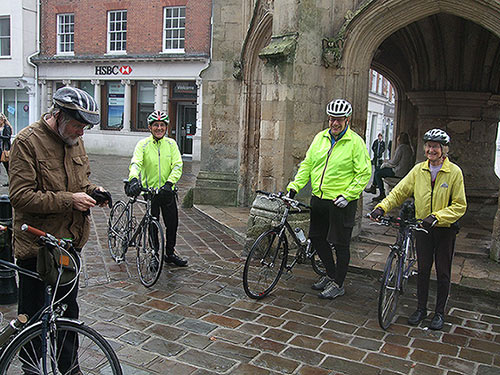 We headed out on Clay Lane and then a lane north via East Ashling to West Stoke village hall for the AGM. The boring bit only took 35 minutes before we went on to Tea, Coffee and biscuits. Russell was appointed Rides List Secretary and newcomer Graham Hodge was appointed Registrar to maintain the Membership list.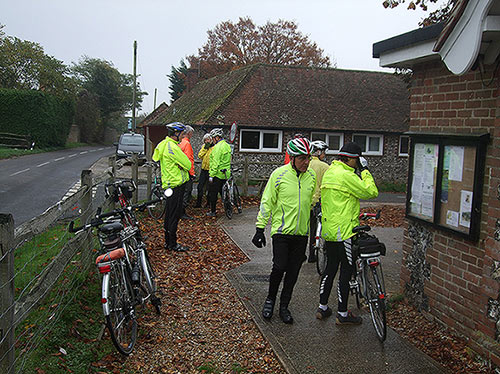 In the afternoon some of us headed for tea at The Forge, Slindon. We rode via Lavant, Goodwood and Waterbeach to Halnaker. Going up the main road we went past the layby at the start of the path up to the Windmill where my picture shown on South Today was taken. It was exceptionally busy with about 12 cars parked there. Probably a lot of it my fault with the picture now up to 9100 likes on Facebook and a number of the 300 commentators asking for directions to the location for this weekend.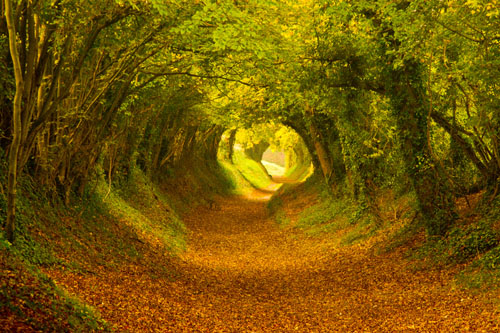 We then cut across on a lane to Eartham and then a sharp downhill to Slindon Woods. Then it was a sharp climb up to Slindon. Arthur was missing at the top and eventually appeared holding his broken chain. He freewheeled down to the Forge Cafe, our tea stop where repairs were effected.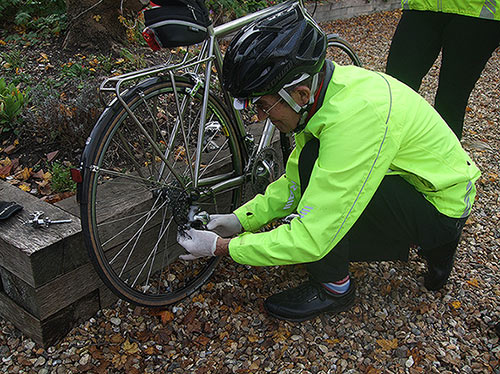 We gained John Maxim at the Forge. He had stopped there coincidentally. We continued down to Walberton where we did the first Club Ride on the newly opened on Saturday Barnham to Walberton cyclepath. The first picture is taken at the entrance off Eastergate Lane.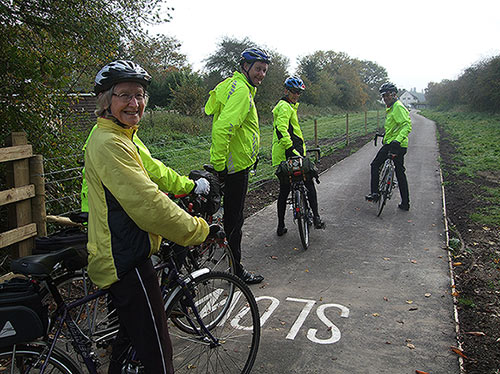 The next picture is taken on part of the path in the field adjoining Barnham Lane.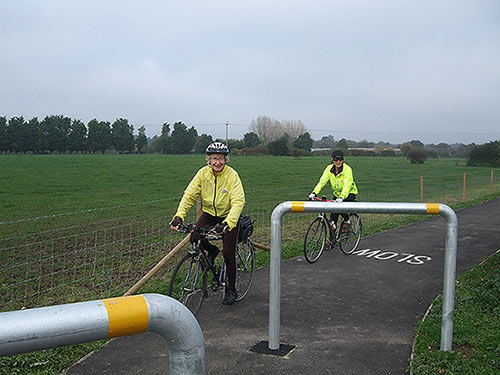 The ride from and back to Chichester would have been about 25 miles. My mileage from Pagham was 33.
On Saturday I did another Autumn leaves excursion taking the bike by train to Haywards Heath and then rode to to Wakehurst Place. The shot is of one of the 2 lakes there.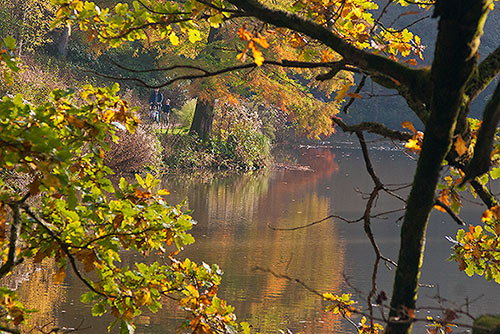 Edwin
Posted by RideLeader at 18:32 GMT