Saturday Ride. Bognor Library to Littlehampton. Look and Sea Centre
A lovely sunny late September afternoon saw 15 at the start point for this ride - Steve Carol Clair Julian Dave June Ann Roy Steve Maureen Karen, myself and new riders Jean Sheila and Ben.
We set out down the usual back streets to the Arun Leisure Centre then through new housing to Flansham and the Barnham Cycle track. Then it was Hill Lane, Yapton, and across the Aerodrome at Rollaston Park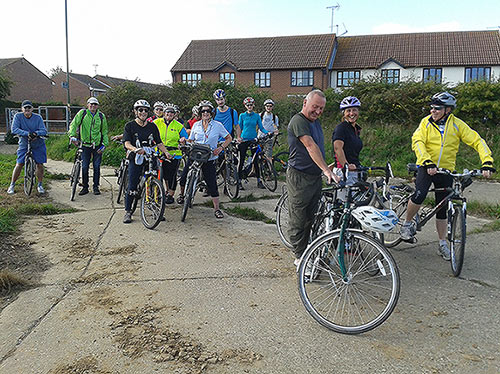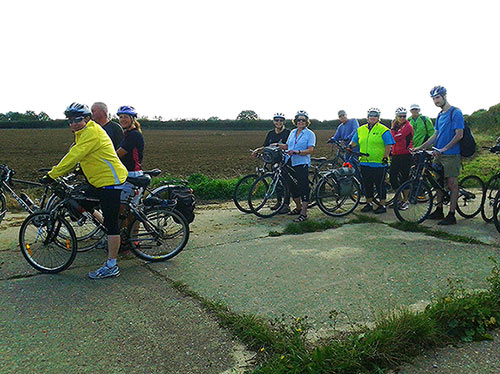 Then on to Climping and Bridge Road. A climb up and over the old bridge took us into Littlehampton and the Harbour Lights Cafe.
Julian Carol & Steve left us here to make their own separate ways home whilst I took the decision to lead the rest of us back to Bognor via Climping Beach to Elmer. I've not been this way for some months so it was useful to see the condition of the beach track. We went via Climping School to Climping Street, then the woodland path to emerge directly on beach. A couple of hundred meters of reasonable riding was curtailed by deep shingle, and we ended up pushing the bikes almost all the way to Poole Place, where the track becomes a bit more stable and riding is possible. In particular just before Poole Place a combination of erosion and work by the Environment Agency has scoured a sizeable chunk out of the shingle and to proceed any further at all it was necessary to drop down to the beach and the climb the re-instated shingle bank further along.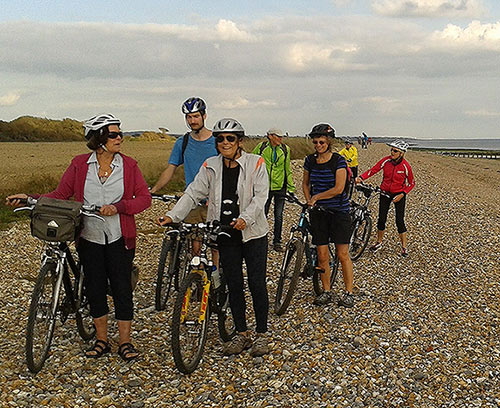 Everyone managed this without too much difficulty and it added to the adventure but it extended the ride time and i'm not sure we shall be using this route again for a while. However it reminded us all what a fantastic cycling route this could be if just 3/4 mile or so of beach shingle had a useable path laid on top. I understand the problem here is principally the landowners resistance rather than anything else. The landowner also owns the foreshore.
Notwithstanding the very poor condition of the beach, we made it safely back onto tarmac at Elmer, and then took a route through Felpham and on to the prom for a sprint back into Bognor whre the ride finished.
My round trip mileage from the start point was 19.5.
Graham
Posted by RideLeader at 00:01 BST
Updated: Sunday, 27 September 2015 07:33 BST