Saturday 12 July. Ride to Goodwood Airfield Cafe
Philippa led today's Saturday ride from Chichester Library which was advertised to run to Wellies Cafe at West Stoke.
However shortly before the start time Philippa discovered that due to a large private party, Wellies would be unable to accommodate us. So a quick examination of the map found an alternative destination, the Aerodrome cafe at Goodwood.
It was a lovely sunny afternoon with temperature hovering around 22 degrees, and light wind. The fair weather brought 11 to the start point: Philippa, Alan, Julian, Graham, Liz, Debbie, Galya, Christine, Clair, Nicola, and new rider Karen.
We set off through Chichester City Centre to join Centurion Way, a route we would have taken in any event had we gone to Wellies. Then just before Lavant we took a shortcut through a farmyard to emerge at the East Lavant turning. Through East Lavant and then right took us onto the Lavant Straight. We then took Stocks Lane, which is a somewhat overgrown bridleway skirting the Goodwood perimeter. None of us had been down this track for a considerable number of years - it looked like nobody else had either but in fact apart from one muddy patch the riding was not too bad at all. Halfway down we came across two cyclists repairing a puncture but they didn't require assistance and fortunately the same fate didn't befall us as we all got through intact. [Pic is us just coming off the track back to civilization]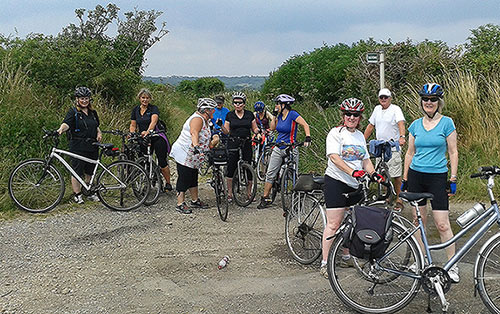 (Editors Note – last time I used that track there were 10 in the group and I was the only one not to get a puncture! – Edwin)
Emerging just south of the Rolls Royce roundabout it was a short sprint to Goodwood where we had to jump out of the way of two souped up sports cars charging out through the entrance tunnel.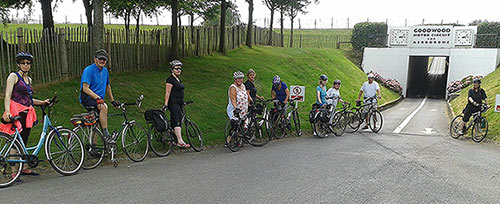 We had a pleasant refreshment stop watching airplanes.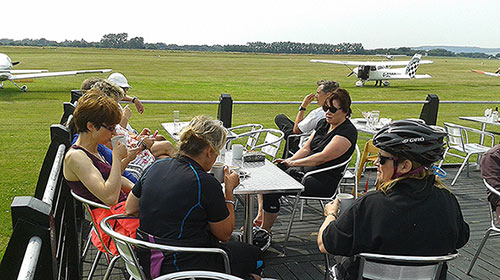 Our return route was northwards back to the Lavant Straight and then down Fordwater Lane, where the Lavant was in full flow, to Summersdale, then College Lane to Chichester.
We ended the ride at North Street. I cycled back to Bognor with Clair, Galya and Debbie. My mileage was 25.6.
Round trip from Chichester would have been about 11.
Graham
Posted by RideLeader at 00:01 BST