Arun Leisure Centre, Felpham to the Anchor at Sidlesham.
A lovely evening today, dry, Clear and sunny, with the wind dropping making perfect riding conditions. 10 riders at the start point: Julian, Graham, Steve, Carol, Harvey, Russ, Liz, Suzanne, and 2 new riders Nicola and Clair who we hope enjoyed themselves and we hope to see again soon. Dave met us at Aldwick making 11 out in total.

We took the promenade route to Fish Lane at Aldwick, then dropped into Barrack Lane, turning left at Stoney Stile Lane to emerge eventually at Nyetimber, where we took one of our regular routes down Summer Lane and across the Pagham Rife to Bowley and south Runcton.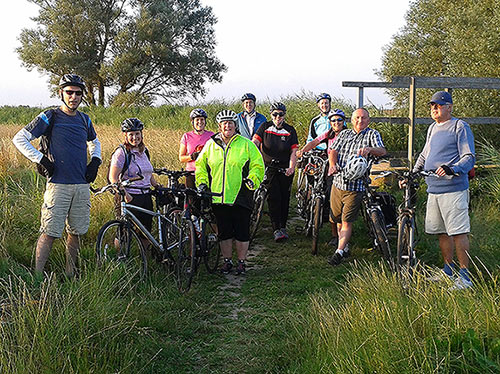 Most of this route will become officially recognised as part of National Cycle Route 2 if Sustrans lobbying is successful. No shortage of midgies across the fields, but the ground was hard and not quite as lumpy as I've known it, so no-one had any problems negotiating it.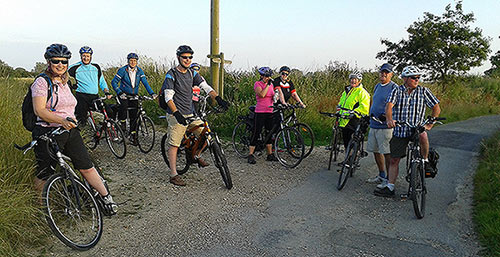 Then it was south through Fisher on waymarked Route 88, turning at Chalder Farm to briefly inspect the site of Chalder Station on the old Selsey tramway, before emerging on the main Selsey Road right next to the Anchor pub. Richard & Elizabeth were there to meet us, having made their own way from Chichester. This particular route probably has more off-road riding than any of our other routes, but the scenery and absence of any other road traffic at all between Pagham and Sidlesham more than makes up for it.

For the return route, we had a bit of a dilemma - whether to return by road or take the shortcut around Pagham Wall and the Harbour. It was on this route last year that Julian and his bike took an impromptu mud bath in the harbour. However it was quite a bit lighter tonight and after some discussions we decided the moon rising over the harbour was a sight not to be missed. So it was down Mill Lane and across tracks to Halseys Farm to reach Pagham Wall, which on this occasion was negotiated entirely without incident. We arrived back in Pagham before sundown. Then it was through the Bay Estate back to Aldwick and then back along the prom, with people peeling off along the way.

My mileage for the evening was 19.8.

Graham
Posted by RideLeader at 00:01 BST