Thursday 26th June. Evening Ride to Climping
After a week of hot weather, the forecasters told us that it would break this evening, with heavy showers likely.
Certainly that looked accurate in late afternoon when the clouds rolled in and spots of rain appeared.
It was very dull and threatening when I arrived at the start point but a brief shower had by then run its course. The forecast probably accounts for the fact that only 4 of us were at the start point - Julian, Michelle, myself, and new rider Suzanne.
We set out tentatively wondering what the weather would bring, but somewhat incredibly, we had not one drop of rain for the whole circuit.
Our route took us up the cycle track to Barnham, where we stopped at the old canal to inspect progress on the reconstruction of Hollinsworth swivel bridge. Then it was Hill Lane to the Mill, then onwards through Yapton and Horsemere Green.
At Climping School we took Bread Lane down to the shoreline before heading back up Climping Street past Bailiffscourt to the Black Horse for a well earned refreshment stop.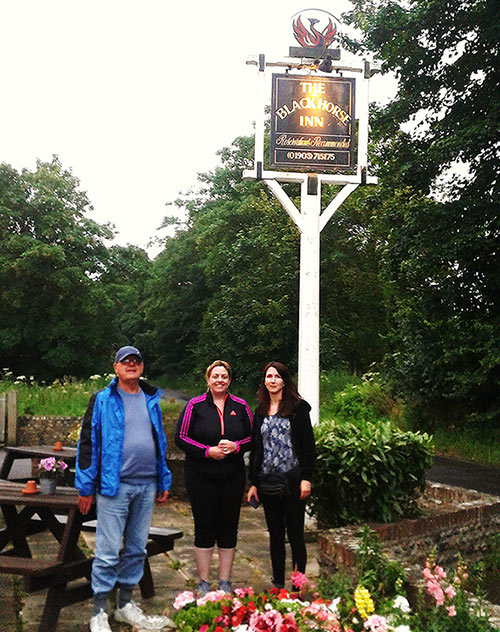 We left the pub about 21.30 when it was still light, so i decided to take an off road route through Ancton Woods. On our way there, in Climping Street, we were passed by 4 Black Daimlers all bearing consecutive registrations, so we speculated that somebody important was staying at Bailiffscourt.
Turning into the field that leads to Ancton Woods, we found the pathway very overgrown but still cycleable, albeit on the bumpy side. The woods were their usual picturesque self but coming out into the open on the south side, the track was again quite overgrown. Happily we all made it through to Elmer unscathed and without incident.
Suzanne left us at Elmer to head home whilst the three of us headed back to Felpham and our separate ways. It had only taken 30 mins to ride back through the woods, and was still not quite dark when i got home.
My round trip mileage was 14.75
Graham
Posted by RideLeader at 00:01 BST
Updated: Friday, 27 June 2014 09:16 BST