Sunday 22 June. Ride to Hooksway and then the Strawberry Tea
The weather today was warm and mainly sunny except for a cloudier spell around lunchtime and temperatures reaching 21C.
I was the leader today and I was joined at Chichester Cross by Sam, Chris, Keith, Russ and newish riders Bob Birtwell and Brian Burdford.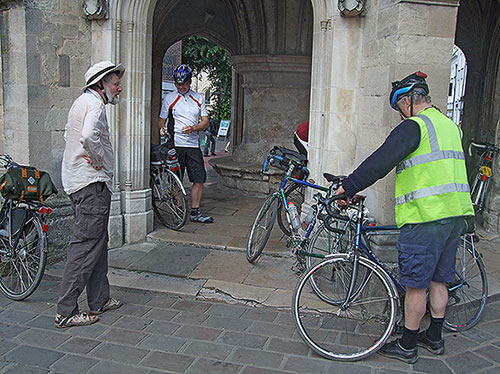 We headed out via the Centurion Way and then on a lane observing the nearly completed large solar farm. Then it was on via West Stoke, Funtington and West Marden to stop for a pleasant 11s stop at Compton.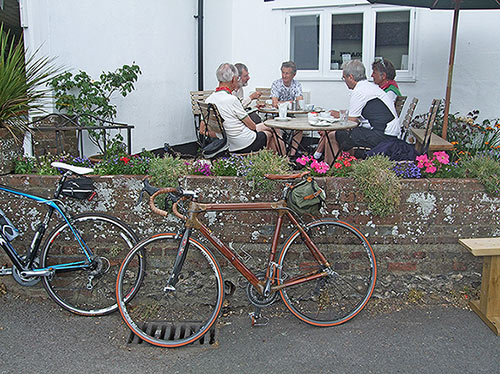 A good shot here of Keith's Bamboo Bike unaffected by last week's panda encounter.
Then it was some pleasant quiet lanes with some ups and downs via Apple Down.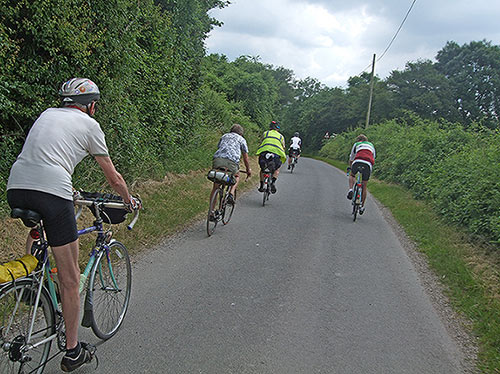 Then on via North Marden to descend for lunch to the Isolated Royal Oak Pub at Hooksway for lunch.
The only problem with Hooksway is that you have to tackle the steep climb back up again, not good for those with too heavy a lunch.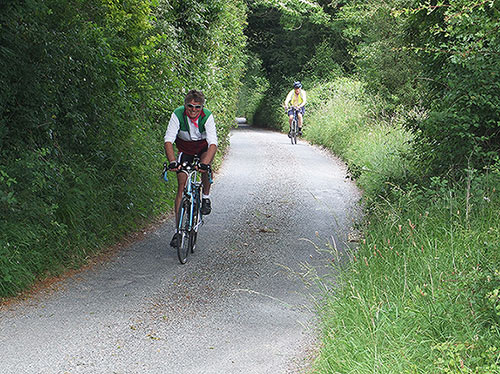 After the fast descent to Chilgrove we turned off on the quiet backroads to West Dean some parts of which actually had sections of new tarmac for the first time in many many decades. Then it was on to the Centurion Way. One section of this north of Lavant narrowed down to tiny passage with undergrowth of near 7ft overshadowing us and making us think of jungle, hint to WSCC!
We continued via Lavant and Westhampnett to Tangmere and the great Strawberry Tea at Avry's. As usual there were large amounts of Strawberries and lashings of cream. More joined us here who rode direct including Harvey, Anne, Gill, Steve, Carol, Dave and Jan.
The main ride would have been about 33 miles from and back to Chichester. My return mileage from Pagham was 43.
Last Tuesday evening I went to Goodwood Motor Race Circuit to take pictures of the cycle racing. This shot was taken with a long lens and then a zoom effect added in Photoshop.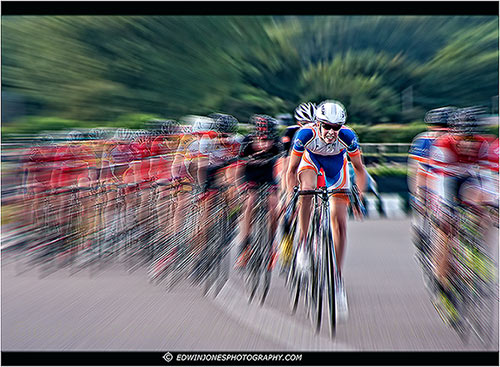 For a larger picture and more details see https://www.flickr.com/photos/edwinjones/14270247268/in/photostream/
On Saturday I took some pictures at the Bishops Palace Gardens, Chichester including this one taken in the wild flowers section of flower buds. The image is taken with a macro lens which has a very narrow area of focus. This one uses focus stacking and 16 images were taken and combined to get all in focus.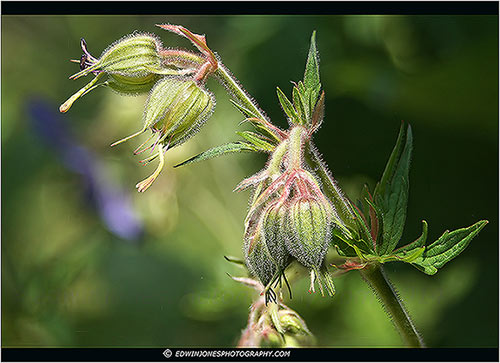 See more on my Photo Blog at http://edwinjonesphotography.com/blog/2014/6/wild-flower-buds-focus-stacked
Edwin
Posted by RideLeader at 20:28 BST