Sunday 12 June. Wet Sunday
Today the long ride was scheduled to go to Upham near Bishops Waltham
I got up in good time and dressed for cycling. Then checking out BBC News 24 weather showed the rain arriving earlier than last nights forcast. Then a check on the Met Office Website rainfall radar website revealed this image.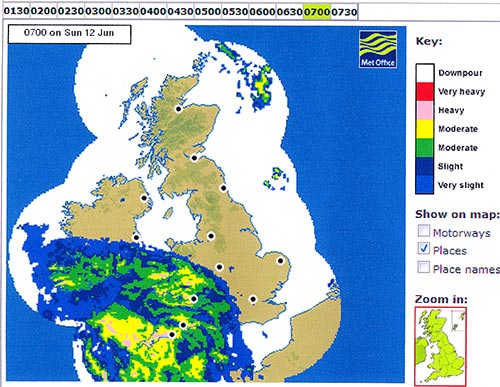 This website is very useful for deciding whether go out on the bike. It is updated every 30 minutes and previous images give a good idea which direction the rain is headed
http://www.metoffice.gov.uk/weather/uk/radar/index.html
The final confirmation came with the pitter patter of raindrops on the windows which continued all day so I "stood down" from cycling mode for a day indoors.
So what is a cyclist to do on a wet Sunday? For starters of course, wash the bike. Naturally without a lady of the house to get outraged the bikes are stabled in the living room. The bike washing of the Roberts bike was done in the warm and dry with an old sheet on the carpet to stop it getting wet.
Next a bit of research on the Computer for the next bike Holiday.
To round off the day some photo editing of cycling pictures. Last Tuesday evening I went to Goodwood Motor Race circuit to take pictures of the Cycle Racing. The picture below was taken with a long lens and then edited in Photoshop to crop it and then add a zoom burst centred on the lead rider with a special filter.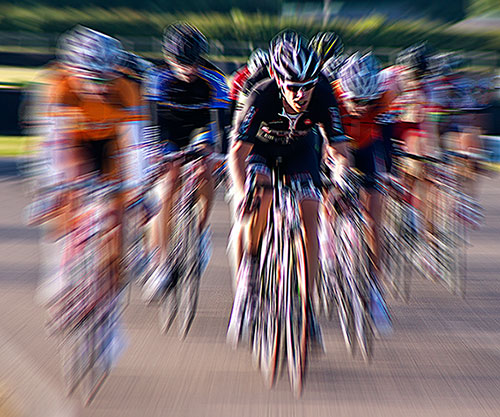 Edwin
Posted by RideLeader at 19:24 BST