Lanzarote. Week to Saturday 12 February.
Apart from a cloudy day on Wednesday this week has been blue skies and temperatures of 20 to 21C. All week has been dry.
I have taken more HDR photographs this week. This is pictures of the same scene taken at different exposures and then combined in special software to create enhanced pictures. I am now carrying the digital camera in a backpack. I originally but it in the barbag with bubble wrap. This did not work too well as a few bumpy roads caused too much jarring and one of the functions intermittently failed. Since switching to a backpack it has returned to normal. Panniers will be a better solution with more room for padding but being a fixed centre trip I did not think to bring any.
On Monday I did a short ride round the plateau at 1000ft. I visited a Church at Mancha Blanca which I had not looked at inside before and took HDR pictures of the interior.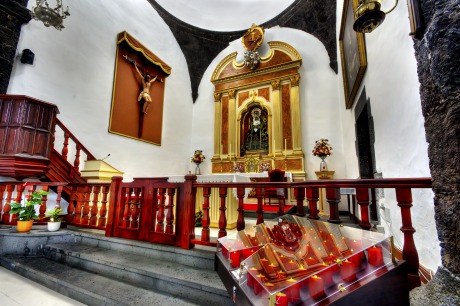 Then across a nearby lava field and up an unmade road I discovered going into the middle of the lava field well off the usual Tourist trail.
Wednesday I took a ride first up to the Plateau. It was cloudy but HDR greatly enhances cloudy skies. This scene has vines in the foreground. These are surrounded by walls for shelter and to collect dew.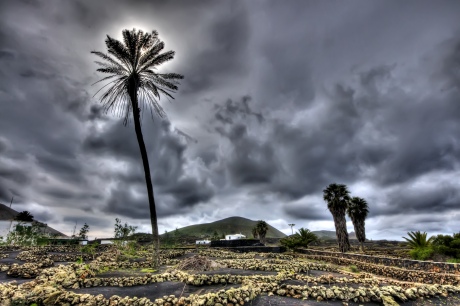 Then it was on to the Caesar Manrique House. This was built on a lava field with some areas built in lava bubbles. This is the only place I have come across in Lanzarote where Tripods are prohibited. I suspect this is health and safety worries over somebody tripping over it and suing them. A bit of common sense can keep a tripod out of the way and make people have to knock into one before they can trip over it. I hid the Tripod in the backpack and got it out in a couple of places where no staff were stationed. This is one of the rooms built in a lava bubble.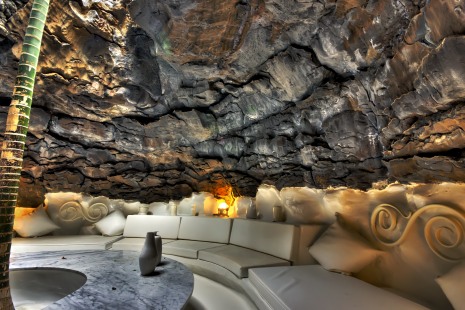 On Thursday I took a short ride along the coastal cyclepath to take pictures of the planes coming in to land. As the planes pass overhead really fast one handy feature of the Digital SLR is continuous shooting at up to 7 pictures a second.
The picture below is a false HDR. Generally a moving object cannot be included in these pictures because of the time between each exposure. However there is a technique called false HDR. Digital SLR Cameras can take what is known as RAW pictures as well as jpegs. A Raw picture has all the basic image information a lot of which is lost in a jpeg. It is possible in Raw editing to alter the exposure and create 3 different exposures to produce an HDR picture. The result is not as good but still a great improvement. You can see how really close the planes pass over the cyclepath bearing in mind this was a 10mm wide angle lens.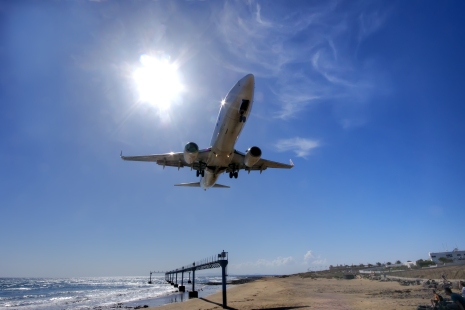 There was a lot of flare from the sun most of which was cleaned up quite quickly with tools in Photoshop.
On Friday I did a long 56 mile ride without the camera Up to Teguise at 1000ft and then another 1000ft climb into the northern mountains. After a stop at a cafe at the top it was down to Haria and a picnic lunch in the square. Then it was down to the coast and then along to the resort of Costa Teguise and back to base on the cyclepath.
153 miles for the week
Edwin
Posted by RideLeader at 17:33 GMT