Lanzarote. Week to Saturday 29 January
After nearly 3 weeks of exceptionally settled weather this last week has been unusually unsettled. Mainly it has been sunny intervals and the occasional short shower. We even had serious rain though this organised itself very well and came overnight. It was quite windy midweek. Temperatures have remained high at about 21c.
On Monday I did a short ride to the crater and explored it more and took more HDR pictures.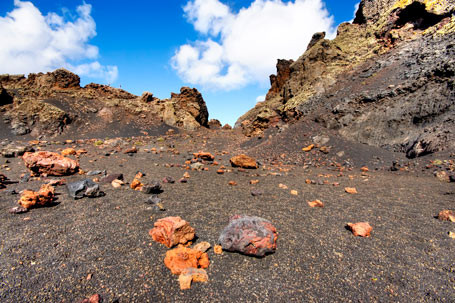 On Wednesday it was warm and sunny but blowing a gale at 40mph. I gave the bike a miss and took a bus to Arrecife to wander around. I found the main church and took more HDR pictures there. (3 exposures combined in software to get more detail)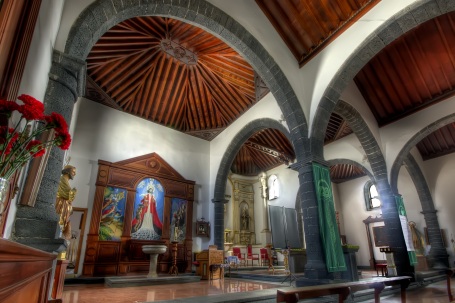 On Friday I had a good 40 mile ride to the south to the El Golfo Crater and then along the spectacular coast built over the lava flow as it went down to the sea.
On the way back the clouds and the hills made a spectacular view especially with the wide angle lens. As I was setting the camera up for HDR shots some cyclists came past and I took the picture below. Because you cannot do 3 exposures of something moving this was what is known as a false HDR. An SLR camera can take images in RAW format. This is the basic image without the loss of detail and compression of the standard jpeg images. From the RAW file the exposures can be changed so I created 3 pictures from the one image at different exposures and processed as normal.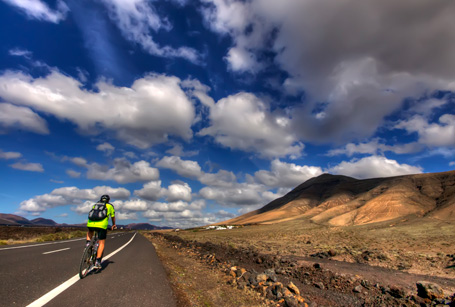 Next for a bit of picture fun. Through Google I had learnt more about the enhancing car (and bike) shininess technique. Below is a picture of a car in a car park on the lava coast. It was mid afternoon not evening but the double process method used darken the skies and I liked the effect so did not correct it.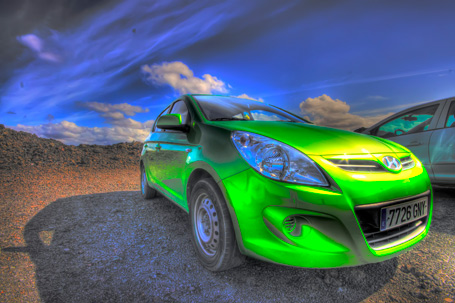 A bike has less in shiny surface area than a car but it can still work. I redid a photo of my Mercian taken earlier. Selecting just the bike was a little fiddly involving a selection for the frame and separate selections for each wheel and then Photoshop adjustments.
Below is first the original picture of the Mercian and then below that the adjusted one.
Original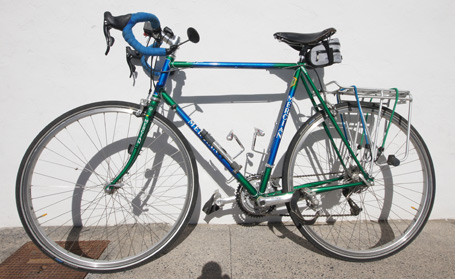 Adjusted

Edwin
Posted by RideLeader at 12:22 GMT