Lanzarote. Week to 22 January
This last week was again near cloudless blue skies with temperatures of 22C. The only exception was today which was a red letter day really as we got some clouds and even a 10 minute shower before the sun came out again.
Cycling distances have gradually increased. I did more rides out on the cyclepath to Arrecife and longer rides later in the week. For this week I am up to summer mileages with a total of 150 miles.
During the week I have been taking more HDR pictures, 3 pictures at different exposures combined in special software. Early in the week I went out to take sunset and sunrise pictures. Sunrise here is 07.50 and sunset 18.20. It is quite convenient with only a 10 minute walk to a part of the beach which has some rocks which make good foregrounds.
Sunset 16 January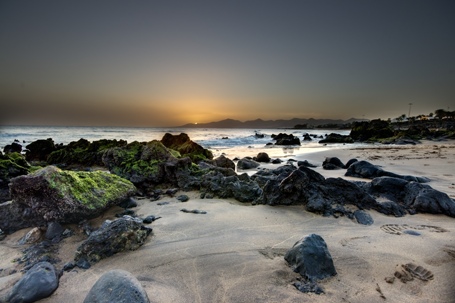 Sunrise 18 January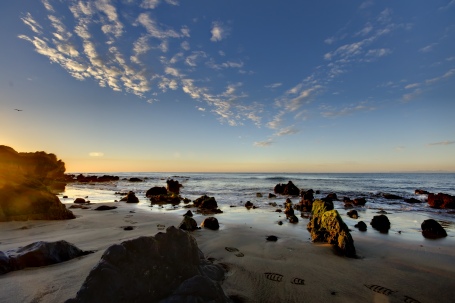 On Wednesday on a clear sunny day I did a 52 mile ride into the higher mountains to the north. These climb to 2000ft. Below is an HDR shot of the viewpoint at La Nieves. This is from the edge of 2000ft cliffs.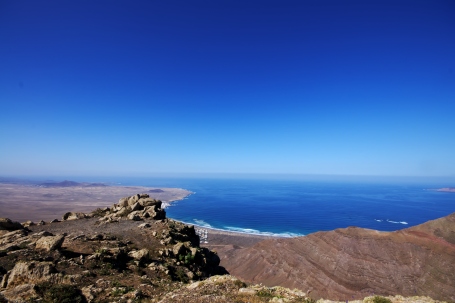 Then it was on to a nearby café and then down to Costa Teguise and back on the coast via Arrecife and the cyclepath back to base. The obligatory stop was made at the Italian Ice Cream kiosk on the seafront.
On Wedneday I had taken some pictures in Teguise Church. Teguise is an old town inland from Costa Teguise at 1000ft. I was not happy with these as the tripod was too low resulting in too much converging verticals, columns appearing to lean inward. I decided to ride out there again on Friday. For those who wonder I strap a tripod to the rack and the SLR goes in the barbag in a padded camera case and some bubble wrap in the bar bag.
I was taking the pictures and a German Tourist asked me about it. I explained about the HDR technique providing enhanced details especially in the shadows. He was very dubious about it as it was so dim in the church.
Below is the original middle exposure on auto settings. Below this is the final result after the 3 exposures are combined in special software and some cropping and adjustments in Photoshop.
Original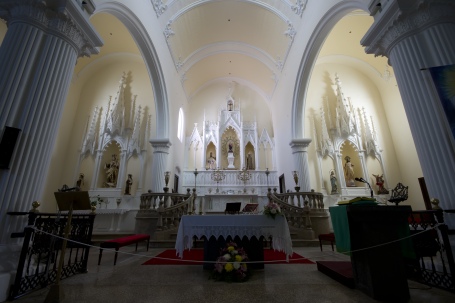 After Combining Exposures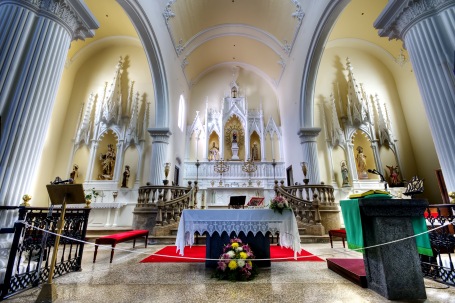 Edwin
Posted by RideLeader at 14:12 GMT
Updated: Sunday, 23 January 2011 08:50 GMT