Lanzarote. Wednesday 27 January. Ride to El Golfo
Last week temperatures were very high for the first 3 days at 25-26C and later in the week 23C. This week though it was cooler at only 20C most days and stronger winds.
Today is was sunny with scattered clouds and again about 20C. I took a back road out of town up to Tias at 700ft and then another back road between old volcanoes up to the plateau at 1000ft. I stopped at a junction for a quick elevenses stop of some raisins from my bar bag. Then it was a fast ride along the super smooth main road which nearly gets as many cyclists as cars on it.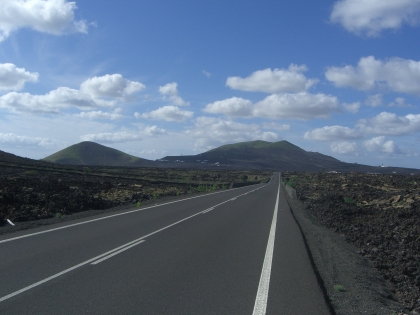 It was a pleasant fast descent to Uga and Yaiza. Then I turned off on a back road between lava flows to the coastal town of El Golfo. A lot of cyclists were coming the other way including a lot of disabled cyclists with hand powered recumbents. I think these are hired from La Santa.
I stopped at El Golfo for a picnic lunch on the beach. The village is mainly restaurants serving the tourist trade come to view the adjacent crater which has been half eroded by the sea.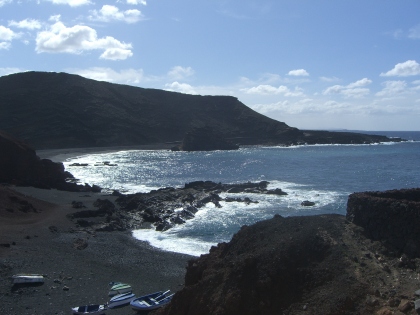 I continued the circuit riding along the spectacular coast. This is where the mass eruptions of many volcanoes further inland 250 years ago sent their lava flowing into the sea. The road is built on this lava flow next to the coast providing some great views.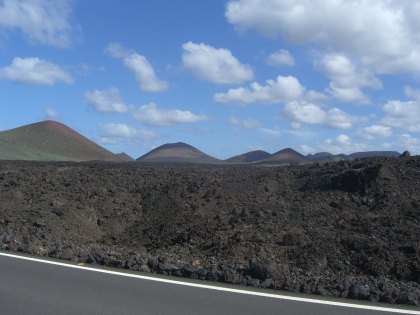 I returned to Uga on the service road gently climbing alongside the fairly busy coastal main road. I had to join the main road for a few miles on the way down before turning off on the quiet road via Puerto Calero.
40 miles for the day.
Scroll down for local Club Rides
Edwin
Posted by RideLeader at 21:25 GMT
Updated: Thursday, 28 January 2010 19:35 GMT