Isle of Wight Weekend. 2nd to 4th May
Saturday 2nd May.
There were just 3 of us on this trip this year, John Maxim, Anne and myself (Edwin)
Weather today was dry and sunny. Sunday started sunny after overnight rain but more cloud built up in the north of the Island. Monday was very cloudy but stayed dry.
We met today good and early at 08.30 at Chichester Cross. On the way there I saw a Heron standing on the banks of the Chichester Canal. We usually stop at Havant for elevenses but this time we went straight to the ferry and had elevenses on the crossing.
John led for most of the weekend. This was interesting and notable for first getting out of the rut of usual routes to Ventnor and then back on Monday with some interesting new lanes. Second the pace was let's say a little faster than the usual club ride. The standard formation was John and then Anne clinging to his back wheel and me with the elastic stretching and then breaking on the hills.
From the ferry we took a route on lanes some new to me to The Oasis Café near Brading for lunch. Then it was across via Alverstone to visit the Donkey Sanctuary. John is well known for his lets say bright Jerseys. This time it was a collection of multi coloured Sports beans.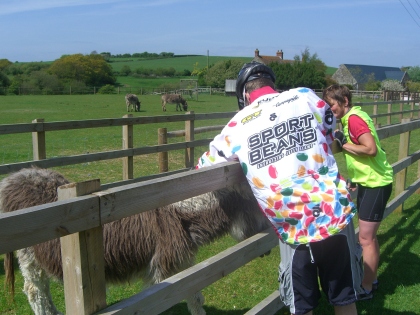 Then it was on to Godshill for tea. Anne after several previous tries during the day finally managed to get the paper she was after.
We stayed in Ventnor at the Brunswick House B&B with very friendly hosts, a deaf dog and several other cyclists staying there.
48 miles for the day for me from Pagham.
Sunday 3rd May.
We got an early start after a 7.30 breakfast to leave for Whitwell to sign on for the IOW Randonee. I had decided to go only part way round to Havenstreet to avoid overdoing it with the Hip. At the next control at Alverstone we met Steve from our Section who was staying at Sandown and Paul and his friend Mick from Arun Adur who were staying at Shanklin.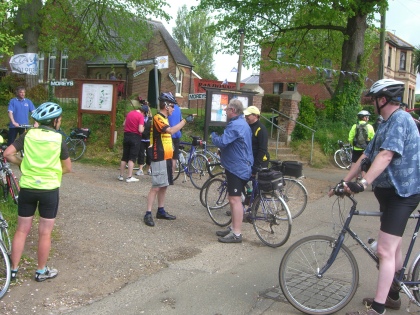 I decided to ride with Steve as far as Havenstreet. We caught up with John and Anne at the next control at Bembridge where large amounts of food were on offer for elevenses. I got a picture here of Johns Cycling Jersey of the day, see below.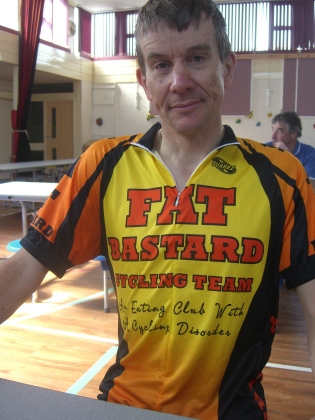 If you cannot see all the writing it is Fat Bastard Cycling Team. The Eating Club with a Cycling Disorder. Does anybody else think John doesn't quite have the build to belong to the Club?
I continued with Steve who is clearly pretty fit as I had to push it to keep up with him at times. We parted at Havenstreet.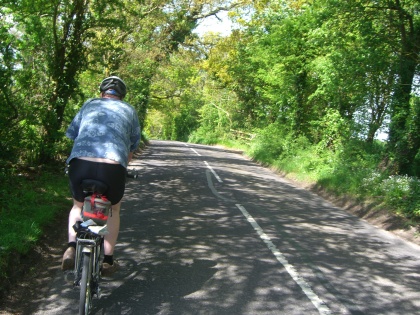 I continued after leaving the Round the Island Route to head south back to Ventnor. I stopped by a Wood at the side of the road for a picnic lunch. The wood was full of Bluebells and I explored a little to take pictures for Camera Club Competitions.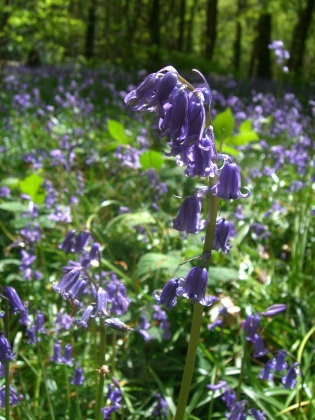 I headed back on a circuitous route via Chillerton to stop for tea (Apple & Blackberry Pie with Ice Cream) at Godshill. Then it was back on lanes to Ventnor on the Round the Island Route but in the opposite direction to the cyclists. It was like a river, a constant stream of cyclists, road bikes, mountain bikes, Touring Bikes Recumbents, shopping bikes and even one on a skateboard.
47 miles for the day for me, John and Anne did 72.
Monday 4th May
Our route back today included lanes to Alverstone and then part of the Sandown Newport Cyclepath. We stopped for elevenses at a new Café at the Garlic Farm. The cakes came with a topping of cream. John and Anne didn't want theirs so I had to eat the extra! Paul, Paul's wife and Mick coincidentally met us there. They were on the way back by car to the ferry.
After a steep climb over Arrereton Down we descended on a lane to near Havenstreet. The verges were lined with Bluebells.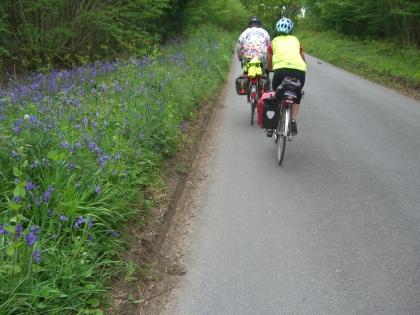 Then back to the ferry. We caught the 12.00 ferry just as it was nearly ready to leave. We stopped for a late lunch at Rowlands Castle. We returned via Funtington and went our different ways near Lavant.
My mileage for the day was 45.
Edwin
Posted by RideLeader at 11:39 BST
Updated: Tuesday, 5 May 2009 12:02 BST