Sun 26 April. Rides to West Marden.
There were 2 rides on today. The first was billed as a morning only ride starting at 8.00 meeting Ride 2 for elevenses although in the end this was meeting for lunch. The second ride started 2 hours later. I was out on both rides but for simplicity I will count myself only once on the 2nd ride.
There were 14 out on the day altogether. Colin led the fast ride and was joined by Anne, Gill and later for part of the ride Jan and Chris.
Arthur led the second ride and he was joined by Lynn, Edwin, Christine, Harvey, Brian and Brian from the IOW and Alan and Liz.
Weather was dry with clear blue skies. Temperatures were a little cooler than of late reaching about 15c with a chilly SE breeze. I joined Colin, Anne and Gill at the Cross at 8.00 am. I had decided I would peel off after an hour to avoid overdoing it with the hip. We headed west on the South Coast cycle route passing many bluebells in the woods beside Clay Lane. Colin set a brisk pace, 16mph on the flat.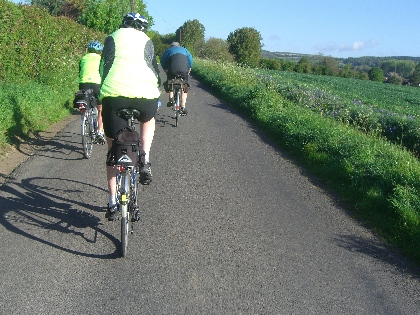 We continued to Rowlands Castle and lanes to Blendworth. I turned off on a lane coming out on the Chalton Finchdean road. The rest of the group continued across the A3 to Clanfield where they picked up Jan and Chris and on to Hambledon before returning. Colin realised they would not get back in time to meet Arthur's group for elevenses at Bosham so they stopped at Rowlands Castle. Jan and Chris turned back from there while the rest continued to meet up at West Marden for lunch.
Meanwhile I had headed back to Chichester via Finchdean, West Marden Funtington and West Stoke. I arrived back at the Cross a few minutes after 10.00 with 30 miles on the clock and the easy group having just left but visible in the distance. I soon caught up. Arthur led us via Fishbourne and the lanes round to Bosham for elevenses.
We continued on lanes north to pick up the South Coast Cycle Route and a bit of deja vue for me from Colin's ride. Then on via Westbourne and the B road to West Marden.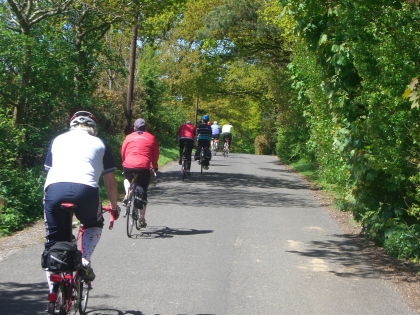 Near Warderton we were stopped briefly as about 10 horse drawn carriages crossed the road. A short way further on we spotted 2 deer in a field.
We stopped for lunch at the Victoria, West Marden and enjoyed the rest in the Garden.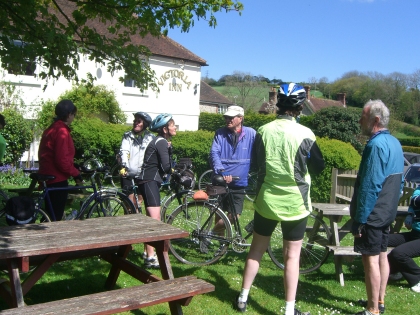 After lunch Colin, Anne and Gill got a few more miles in, returning via Harting and lanes at the back of the Downs and Cocking.
The rest of us returned via Funtington and Watery lane to West Ashling where we had a brief stop at the Pond to look at the Black Swans and Fish. Then back to Fishbourne to stop for tea at the Roman Palace.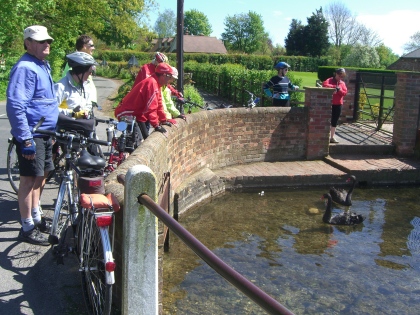 I returned to Pagham on the Canal Path to Hunston and then a cycle path round the fields to join the Hunston - Mundam road. By doing so I missed a police diversion blocking the road at the roundabout. I thought the road was quiet and then round the corner it was taped of with 2 very badly wrecked cars. One of the cars had the top sliced off to bonnet level so unfortunately there were probably fatalities. The police were taking photos and treating it as a crime scene. I turned back and got home via a footpath from Hunston to Fisher.
For Arthur's ride the mileage from and back to Chichester was 30. For Colins ride mileage from and back to Chichester was 71.My mileage from and back to Pagham was 65.
Edwin
Posted by RideLeader at 20:06 BST
Updated: Sunday, 26 April 2009 20:26 BST