Holmbury St Mary YHA Weekend 28-30 May
This was a Hostelling long weekend organised by John Maxim. Taking part were just John, Edwin and Anne. Colin joined us on the Sunday.
The weather was chillier than of late at about 17C with very strong SW winds luckily easing down for the return on Monday. It was dry apart from a little drizzle early and late on Monday.
This write-up will mainly be about the Sunday ride. John let us to Holmbury on the Saturday and back home on the Monday. Anne who lived in the area for a few years led us on the Sunday.
On Saturday we started from Walberton Pond and on to Tiffin's Petworth for elevenses. Then it was on to The Three Compasses near Cranleigh for lunch. After a long long climb from Ewhurst and a long descent to Shere we stopped for tea at the Lucky Duck tea rooms. 57 miles for the day.
On Sunday after a substantial breakfast we gathered outside for the ride. The picture below was taken as we were ready to leave with luggage on Monday but shows the group and the Hostel. On Sunday Colin joined us at 9.00 after getting a train to Horsham.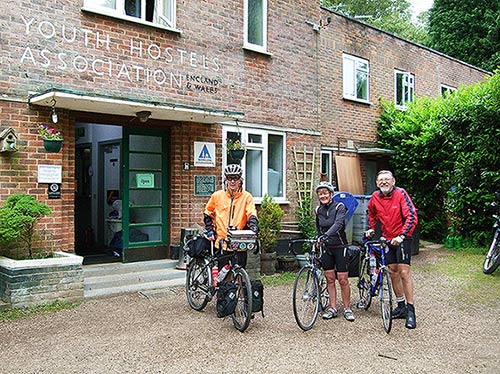 This area of the North Downs is particularly notable for its tree density which makes for some beautiful lanes at this time of year. Anne took us on some of these lanes via Peaslake with some notable ups and downs and across to Ewhurst. At the base of the Downs we came to a lane where a sign warned of a 21% grade. Saturday John had diverted us away from the same lane after I mentioned I fell off while on Lanzarote trying to climb a 22% grade climb. Would Anne take us up it today??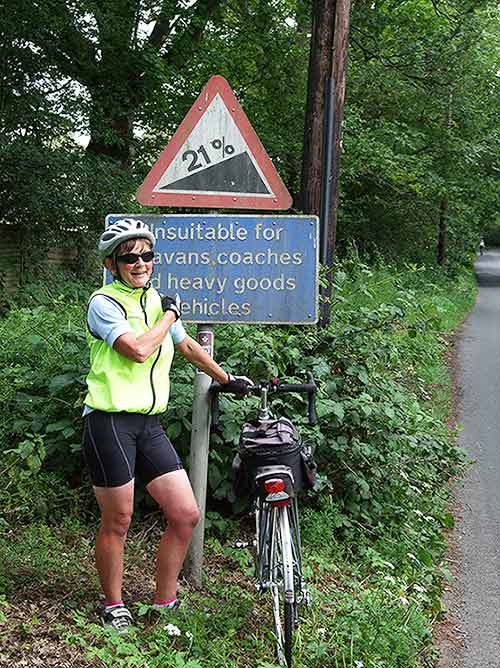 Luckily the answer was no. She took us instead on some very petty and quiet lanes with gentler climbs over the Downs at a lower point and down to Shere for elevenses at our old favourite by now the Lucky Duck tea rooms in Shere.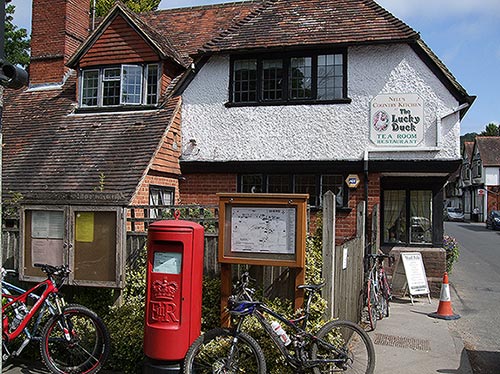 After elevenses some serious climbing started. We crossed the A25 and up Coomb lane which includes a 17% grade. After a long downhill there was another steep climb to the ridge of the Downs and Ranmore Common. After a sharp descent to Westhumble we crossed the A24 and started on the long climb to Box Hill. This will be used as a circuit 7 times during the Olympic Road Race. There is a trial Road Race using the Route on 14 August. More details here –
http://www.gosurrey.info/cycling/olympic-cycling-road-race/
The picture below is of John Maxim fast being caught by the pack!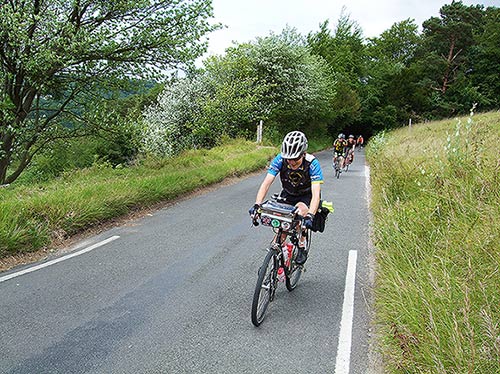 After buying some lunch at the National Trust Centre we went a short way to the viewpoint for a picnic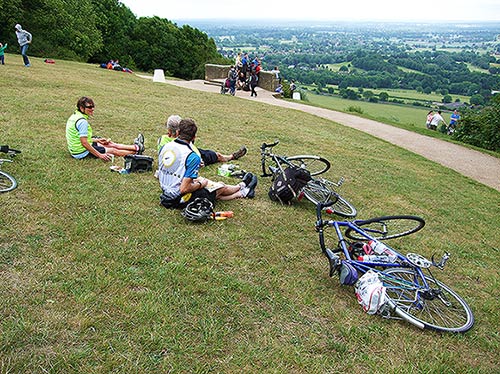 After continuing through Box Hill village we descended south onto more gentle back roads. Then it was on to Capel Church for Tea. This is a well known Cyclists Mecca of the area. The reason, the ladies of the Parish provide an enormous selection of Cakes at very cheap prices.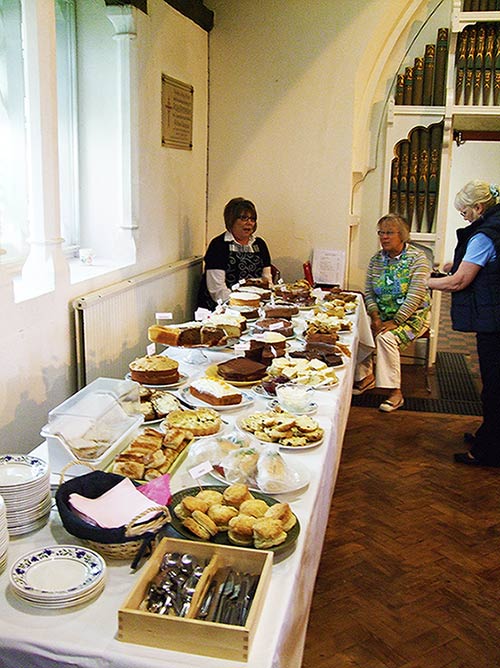 I had a scone with jam and cream, a slice of coconut cake and a squash for the grand total of £1.20. They open fortnightly in the summer 3.00 to 5.00. Well worth a visit.
Soon after we arrived a big group from Cheam and Morden CTC based in SW London arrived. They included a couple I had last met when they took part in my first tour of New Zealand in 2000. After tea we chatted outside for a while.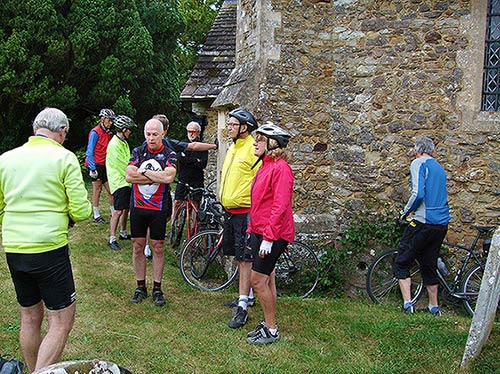 Colin headed back to Horsham for a train back soon after tea and the rest of us took a fairly gentle route to the Hostel.
49 miles for the day and 3290ft of climbing.
Saturdays return ride took in Cranleigh for elevenses, Sumners Pond at Barnes Green for Lunch and Houghton Bridge for Tea. 55 miles for the day.
Edwin
Posted by RideLeader at 12:04 BST