Lanzarote. Sunday 8 February to Friday 13 February. Scroll down for local Club Rides.
Over this last week my cycling has much improved with some rides into the hills. Last Sunday I got in my longest ride to date taking the cyclepath route to Arrecife and then through the City keeping close to the coast and on to the next Resort of Costa Teguise and another cyclepath along the Prom. The first of 2 beaches there is a beautiful small sandy bay where I stopped on the Prom for a picnic lunch. 31 miles for the day.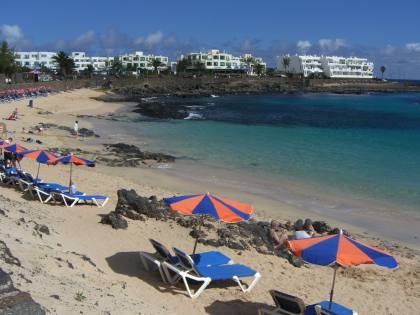 Costa Teguise Beach
Weather last Sunday and the rest of this week has been clear skies and temperatures 19 – 21 C.
I followed a pattern of one day of cycling alternating with a rest day with reading the paper while sunbathing on the Apartment patio and a walk along the prom and stop in a café.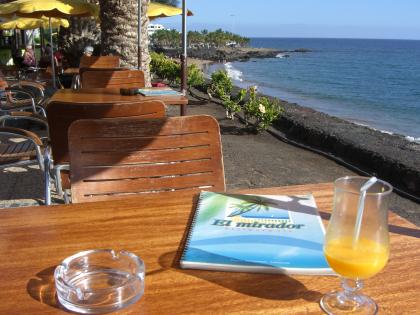 Puerto Del Carmen Cafe
Tuesday I tried a short ride into the hills taking the backroad up to Tias at 700ft. Then though the town, down a little and then a long climb on the main route to a pass.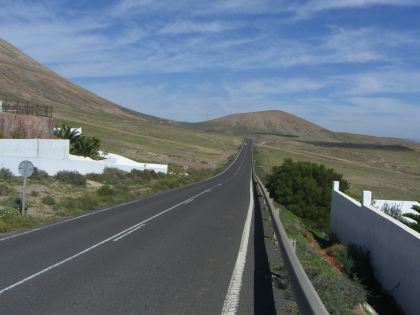 Road to the Pass
I used a technique of putting as much pressure as possible through the good leg on the steeper bits which seemed to work well. From the pass it was a nice 5 mile descent to the coast at Playa Honda and back on the cyclepath. 15 miles for the day.
On Thursday I did a little longer ride into the hills. On the way out to the back roads I stopped to take a picture of a little trench workmen were digging in the road. See picture below. Really puts UK efforts at digging up roads to shame.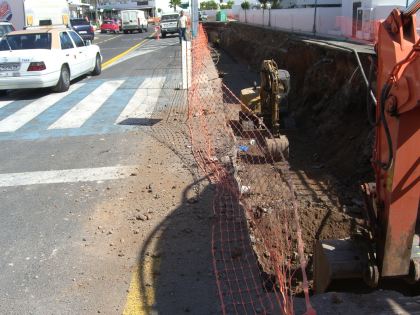 Hole in the Road
Then it was the usual quiet backroad to Tias and from there a different route on a lane up to Conil at 1100ft. On the way there I passed a field filled with spring flowers.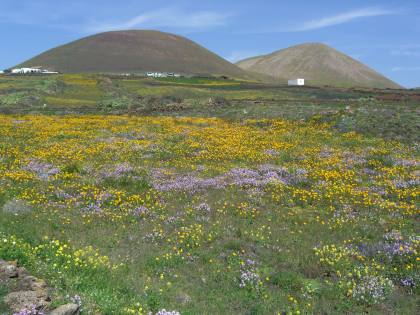 Beside road to Conil
Beyond the village I was on the high volcanic plateau in the centre of the Island which goes by old volcanic hills. I stopped for a picnic lunch on some benches outside a small church. Then along the smooth relatively quiet main road going along the plateau and turning off at San Bartolome followed by a 6 mile descent to Playa Honda. Then a return along the seafront cyclepath. 21 miles for the day.
Edwin
Posted by RideLeader at 10:14 GMT
Updated: Saturday, 14 February 2009 10:31 GMT