Buriton
Mood:
a-ok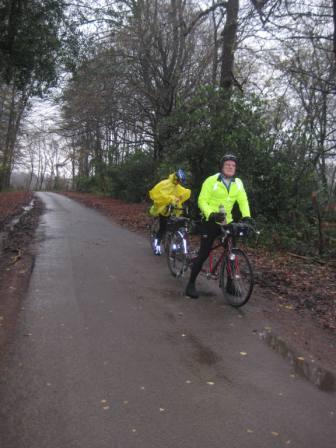 Linda and Phil near Ditcham Park School
Only three takers at the Cross at 10:00 am on a cold and wet morning for the ride to Buriton – Linda, Mary and Phil. We set off westwards in a light drizzle taking the usual route through Woodmancoate to Stanstead House.
The temporary café in the Garden Centre is still being used and unfortunately we arrived just after a coach of people on a Christmas Outing. We took our places at the back of the queue. After 15 minutes queing with little visible progress, our leader's craving for a morning coffee faded and he managed to persuade the team to climb back into their wet clothes and take to the road again unrefreshed.
We headed north towards Forrestside, turned left to descend to Finchdean and climbed the valley, staying to the right of the railway line and ascending all the way to Ditcham Park School. The now steady drizzle continued as we descended to the main road, turned left towards Petersfield, and then cut back over the hill to Buriton.
Familiar bikes were parked by the Five Bells and we found Adrian and Jill sitting on sofas in the snug eating their lunch. We ordered ours and were joined a few minutes later by Colin. The snug turned out to be not so snug as the wood-burning stove had not been lit, but the onion soup was good as was the large bowl of chips which Linda gallantly shared around the group.
Still a little cold, we donned our wet clothes again and continued to the crossroads and turned left to climb Buriton Hill. At the top, somewhat warmer, we paused momentarily before descending through the forrest back to Rowlands Castle. Adrian turned back towards Clanfield, and Colin decided to skip tea, so only Jill, Linda, Mary and Phil enjoyed the tearooms.
Finally we headed south again, turning left then right at the main road to descend to Westbourne and return through Woodmancoate, and Fishbourne. Linda headed back into Chichester, while Jill, Mary and Phil took the Apuldram Road, continued towards the marina, and then turned east to Hunston and Runcton.
Posted by RideLeader at 19:47 GMT
Updated: Sunday, 30 November 2008 19:59 GMT