Sunday 19th March. Ride to Denmead
Today was mainly overcast though still mild at 12C and dry though with a very strong SW wind.
Jeff was the leader today and he was joined at Chichester Cross on the longer faster ride by myself Mark and Mike. Harvey was the leader of a short morning only ride to Compton meeting at 10.00.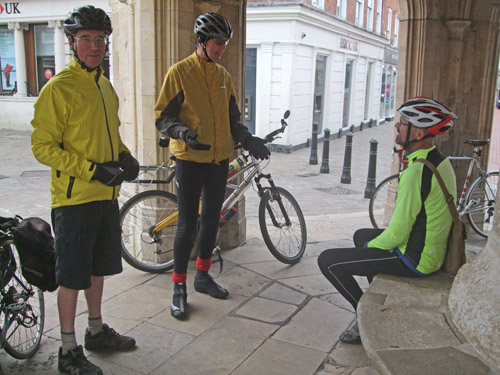 We headed out up the Centurion Way and then on via West Stoke and Funtington. We continued via Rackham and then lanes up to Compton for a welcome early elevenses stop. They had a new sign up for the Tea Rooms obviously designed to attract cyclists which worked.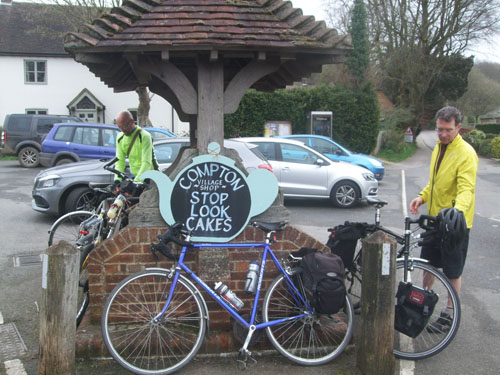 We arrived about 10.15 and easily gained seats. While we were there a constant flow of small groups of cyclists arrived from various points of the compass until all seats were taken.
While the rest continued on a hilly route to stop for lunch at Denmead I headed back to make it a half day ride. On the way back down the valley I first encountered Anne out for a ride going the other direction. Then a mile further on it was Harvey leading a group of 4 on the 10.00am ride towards elevenses at Compton, I hope they got seats.
My mileage from and back to Pagham was 38.
Jeff continues the story of the Hard Ride after elevenses -
Edwin turned back at Compton, leaving me to give the two other hard riders what they came out for. Well they got it , 3497 feet of climbing at an average speed of 10.39 and my Garmin tells me I burned 2624 calories.
After Compton we headed up the usual route to Buriton then the usual route to East Meon all on good quiet lanes. From here we climbed up to the ridge above Winchester Hill ( Teglease Down ) where we had a photo call. From this high point we sped down to Chidden, passing lammas in a field then up and down lanes to Denmead.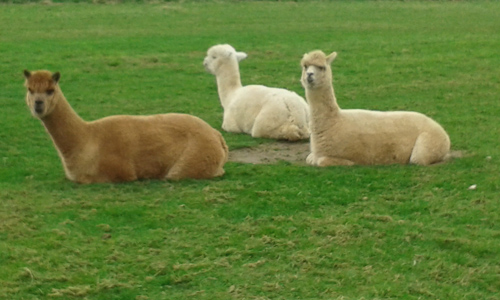 3 lamas look at 3 cyclists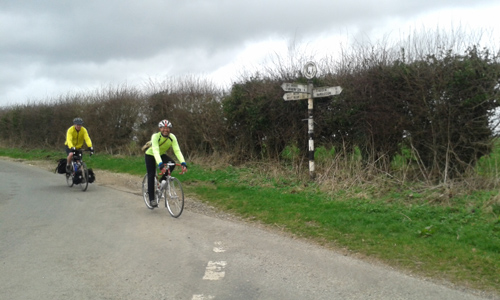 Mike and Mark above Chidden
The Fox and Hounds was earmarked for lunch, instead of the nearby Horse and Jockey on a busy road . I have always avoided this pub as it advertises itself as pub of the year 2012 ( who says?) and it is now 2017. As Mike and Mark brought lunch we sat on the village hall wall for a quick snack before heading off at 1.30 . Rowlands Castle by 2.15 and still the hard riders did not want to stop at the cafe. So back to Chi with a fast wind assisted ride on the main road from Bosham, turning left at the cycle shop in Fishbourne to inspect the cyclepath which I helped to clear a few weeks ago with Sustrans volunteers, then we used the new path laid out as part of the new development at the rear of Salthill Road then Chichester by 3.05. Job done . Roll on Summer ! Return mileage from Chichester was 54.
Jeff
Back to Edwins Report
On Saturday I took this shot 0f a Steam train crossing the River Arun at Ford at 9.45.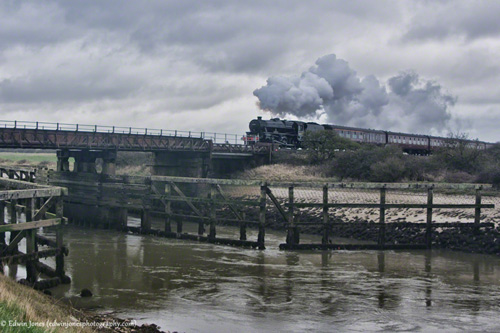 This was the Bath and Bristol Steam Express Day Excursion from Three Bridges.. The advantage of this spot apart from the scenery is that the train has to slow for the points at the junction just before the bridge. When running fast Steam trains can readily get to 70mph. The train is an Express with next stop Salisbury. Steam Excursions on the main line run regularly in various parts of the country but only visit our local line 2 or 3 times a year.
Edwin
Posted by RideLeader at 17:42 BST
Updated: Sunday, 19 March 2017 20:31 BST