Thursday 13 August. Evening Ride to The Gribble Oving
After torrential downpours all day the forecast predicted a dry spell early evening before heavy rain again later. Against this background i wasn't expecting many riders to join me this evening. In the event there were 11 at the start point- Carol Steve Mike Maureen David Harvey Steve Barry Russ Dmitry and myself. Edwin joined us at Oving later making 12 out in all.
Additionally, the predicted rain never arrived and somewhat incredibly we completed the entire ride in the dry.
I led the group around Felpham cricket pitch and over Highfield Bridge to Bersted, then through the housing estates to Shripney lane. We crossed the relief road and headed into Shripney village. Then a mile of main road on the surprisingly quiet A29 to Woodgate where a turn into hook lane brought us to Aldingbourne. A short hop to Woodhorn lane took us around the back of Oving and some more quiet lanes to arrive at the Gribble from the rear.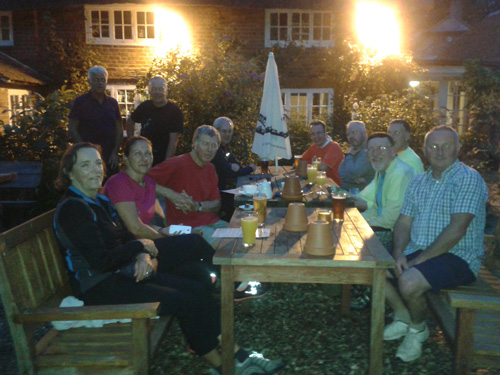 Our return route was the empty lane over the railway bridge to Colworth, then the loop which brought us out to Elbridge. The last part of this lane is normally flooded but it appears drainage efforts have been successful as despite today's torrential rain the road was bone dry.
This circular ride was completed by a return to Bognor and Felpham via the Chichester cycle track, riders peeling off for home as we progressed.
My round trip mileage was about 15.5
Graham
Posted by RideLeader at 00:01 BST
Updated: Monday, 17 August 2015 08:30 BST