Sunday 29th June. Ride to Dial Post
The weather today was mainly sunny though with some cloud and dry. Temperatures reached about 20C.
Colin was the leader and he was joined by just myself and Rex for the 9.00am start at Walberton Pond. However Colin got a text from Anne to say she and Roger were at Chichester Cross, had they got it wrong? Yes and Colin texted to meet for elevenses at Sumners Pond, Barnes Green.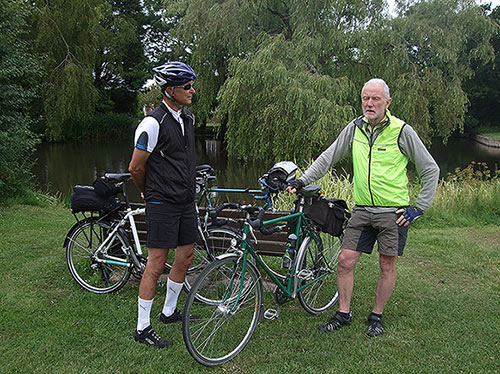 Colin, Rex and I headed out via Madehurst at Collins usual brisk pace and then on via Houghton and Amberley. We tood a little lane before Storrington going past the Gliding Club and came across 3 from Arun Adur heading out on their ride to Midhurst.
Then it was on a bridleway across the West Sussex Golf Club near West Chiltington with some sandy tracks which we walked. Then it was some beautiful out of the way lanes across to West Chiltington.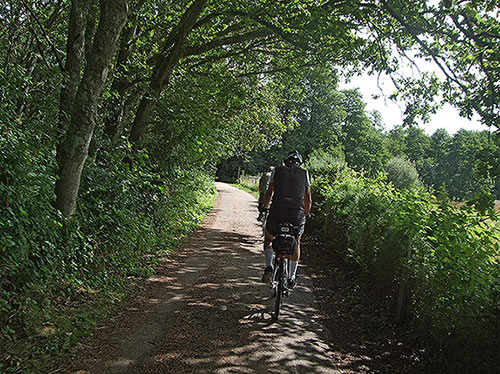 Colin took us though West Chiltington, down the old Freewheel Comp hill and on via lanes via Broadford Bridge and Conyhurst to stop for elevenses in the pleasant surroundings of Sumners Pond Cafe. At one point Colin and Rex were looking very studious and engrossed in technology.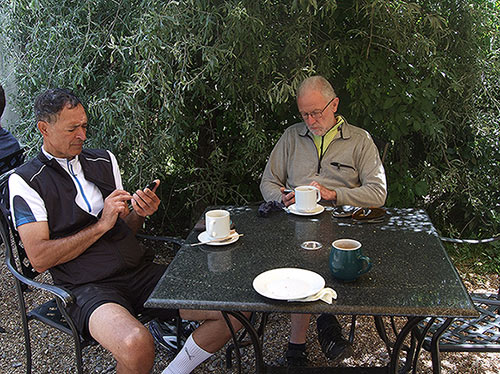 Anne and Roger soon joined us after cutting across country via Duncton and Wisborough Green.
Colin then took us on a little loop to the east of Barnes Green on beautiful lanes via Southwater, Maplehurst and Partridge Green. Then it was a very quiet lane from Ashurst.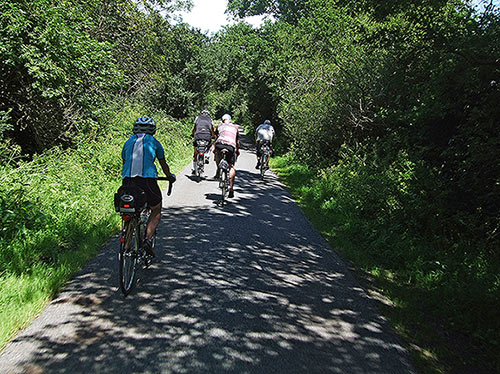 We soon arrived at The Old Barn Nursery Cafe with both having sandwiches first and then on to the Cafe for Coffee.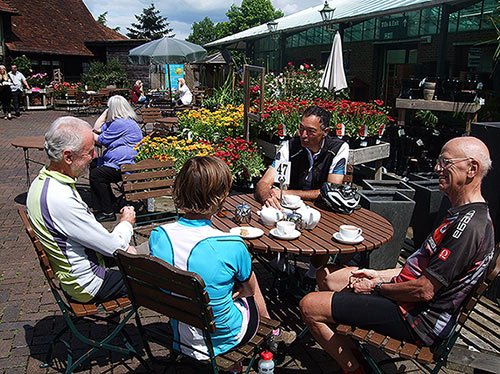 After lunch it was more quiet lanes south of Shipley and then down to Ashington. Then a lane with a steep climb up to Warminghurst Church and on to the edges of Storrington. We continued to ride through Pareham Park where we saw 2 deer, sorry too quick for me to get a picture.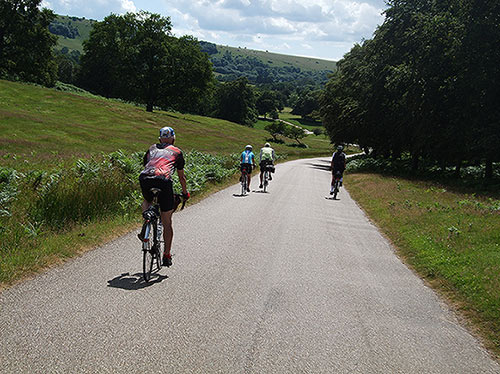 Then it was on to Amberley to stop for tea at the village tearooms and stoking up with more calories from delicious cakes.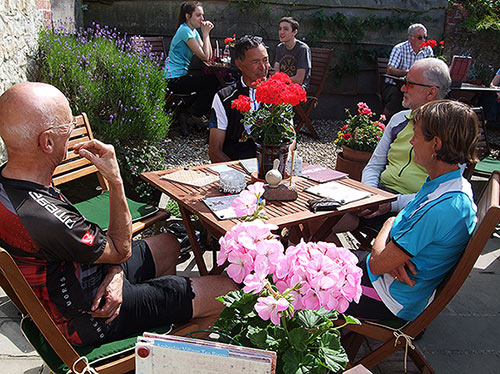 We spit up after tea with Colin and Rex taking the track to Arundel and the rest of us heading up Houghton Hill. By coincidence the Bognor Regis Cycling Club riders, the local time trial club came past on the hill on the way home from a 100 mile club ride to Box Hill and back.
On my mileage the distance from and back to Walberton Pond was 61. However the leader Colin did an extra loop via Arundel so his official mileage for the day would be about 65. My own mileage for the day from Pagham was 80.
On Wednesday evening I took the bike train assisted to Lancing and then went up to the Downs north of Sompting and Lancing to take pictures of a Poppy Field. This one was taken about an hour before sunset.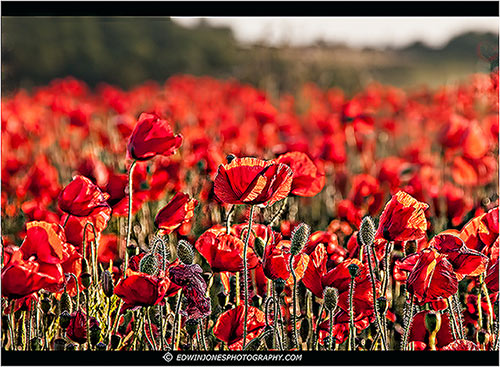 For more details and a bigger picture see https://www.flickr.com/photos/edwinjones/14325568507/in/photostream/
Edwin.
Posted by RideLeader at 21:21 BST
Updated: Sunday, 29 June 2014 21:24 BST