Sunday 10th April. Ride to Hambledon
Just as a preliminary for those who followed my Blog entries on Lanzarote I am still developing the picture techniques worked on there. This is called HDR where a number of exposures of the same picture are combined to get more detail. On Friday I cycled to Bosham with Camera and Tripod in the panniers to take pictures inside Bosham Church. The picture below is of a small side chapel in the church. To get all the detail for the Chapel and the view through the windows 7 exposures were combined.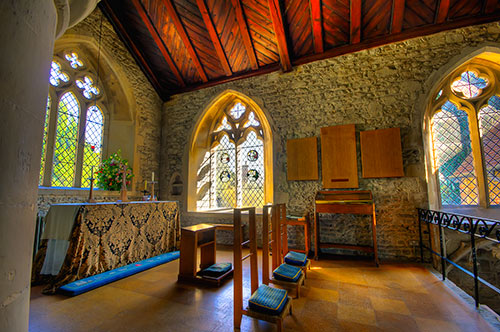 Todays Sunday Ride was again on a brilliant blue sky day with temperatures inland reaching 21C. There were 2 rides today, a long ride to Hambledon and a short ride to Rowlands Castle. Anne was leader of the Hambledon Ride and she was joined at the Cross by Colin, John Wickens, myself (Edwin) Jo and her husband Neil Taylor and Mandy making 7 out on the ride.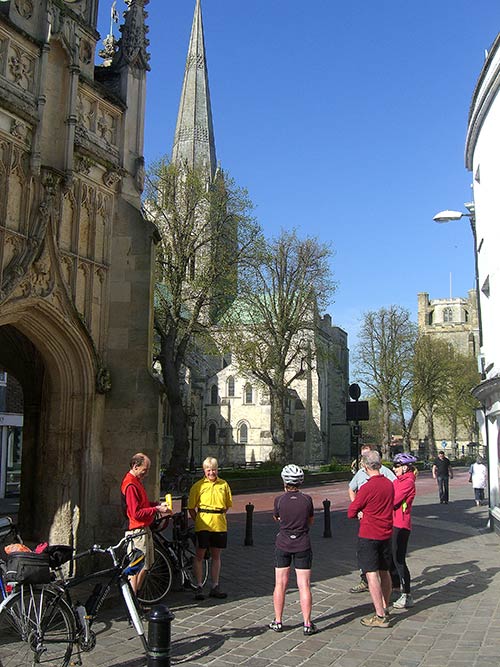 From Chichester Cross we headed out initially on the South Coast Cycle Route lanes along Clay Lane then it was through West Ashling which seemed packed with spring blossoms. Then it was along Watery Lane being careful to obey the sign to watch out for ducks crossing.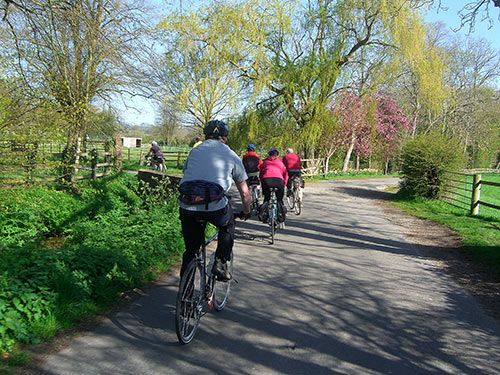 From Funtington we headed up the B Road towards West Marden but turned off before then up a very steep climb to Forestside followed by a good downhill to Finchdean. Then it was a quiet lane to Chalton and a climb up to the crossing of the A3.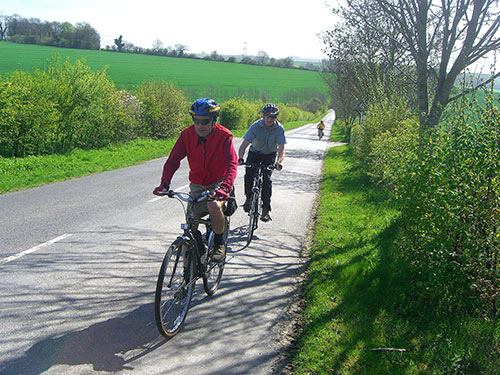 We stopped for elevenses at the Queen Elizabeth Country Park Cafe. John Maxim met us there but he headed home from there.
After lunch we headed on via Clanfield and a long climb to HMS Mercury. On the way up we saw a large variety of old cars from various periods presumably on a rally or meet.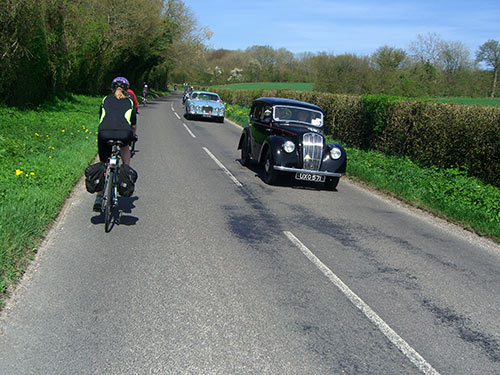 We had great views on the ridge at the top. Then we turned off and a long downhill on quiet lanes to Hambledon to stop for lunch at Lott's Cafe.
After lunch there was a good steep hill to get us back into the ride.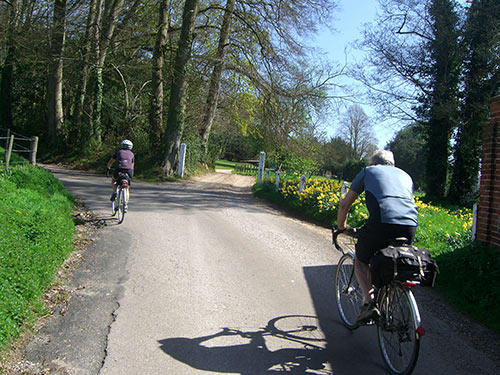 Then it was some really narrow empty lanes across to Cathrington with its steep hill and then Horndean. Then it was a loop via Blendworth on some pretty and remote lanes to stop for tea at Rowlands Castle. I refuelled with my usual, Apple Pie and Ice Cream.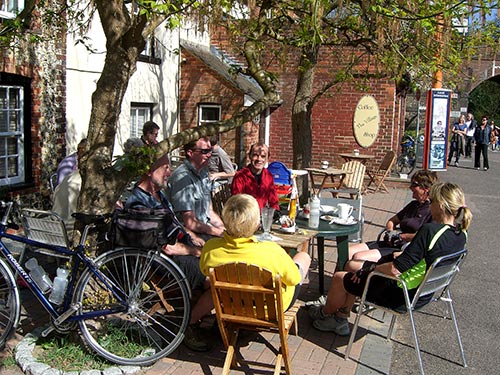 Then it was back to Chichester on the usual route via Westbourne and Woodmancote. Mileage from and back to Chichester was 50. My mileage for the day was 61.
On the short ride to Rowlands Castle Harvey was the Leader standing in for Arthur. The ride started from Chichester Cross at 10.00, 30 minutes later than the long ride. Harvey was joined by David Glue, Dawn, Fred, Sonja and Keith Dodman. Gill joined the ride as far as elevenses making 7 out on the ride.
The group rode via Clay lane and then Southbourne and Prinsted to elevenses at Emsworth. Then it was on to Rowlands Castle for lunch and a fairly direct route back.
Edwin
Posted by RideLeader at 20:28 BST