Lanzarote. Week to Saturday 19 March
It is about 2 and a half years since my last accident so I was perhaps overdue for another one. More on that later.
Last Sunday the week seemed to start as if getting me ready to come home with a thunderstorm for several hours in the morning. I gave a miss to a bike ride. It remained unsettled for a couple more days with sunny spells and the occasional light shower. From Wednesday onwards it settled down with no rain and gradually more sun. It was 19C at the start of the week and climbed up to 22C by the end.
My longest ride was on Wednesday out to the north to the Jardin de Cactus gardens. I started by riding up to the Plateau at San Bartolome at 1000ft. There was a head wind of about 20mph so rather than take the exposed coastal road I continued along the Plateau to Teguise. Then a long downhill from there bringing me out near the Cactus Gardens.
I again had my SLR and tripod with me to take HDR pictures. (High dynamic Range of light using 3 different exposures of the same scene combined in software to get more detail especially in shadows) The first picture below was of some stairs going down to a cafe bar with the gardens visible through the windows.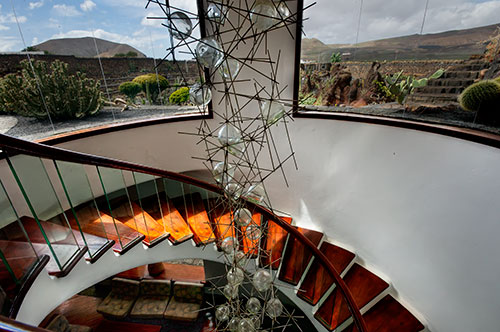 The next picture I was able to use the wide angle lens and a low angle to get an interesting view of some cacti and a windmill which is part of the gardens.
For the next picture I had read on the net about panorama pictures and these show up more these days in pictures and postcards. This is my first try. It is 5 pictures which are then combined automatically in Photoshop. The pictures need to be taken on manual exposure with an average for the whole scene. 5 overlapping pictures were taken and the software does a good job of aligning and combining them.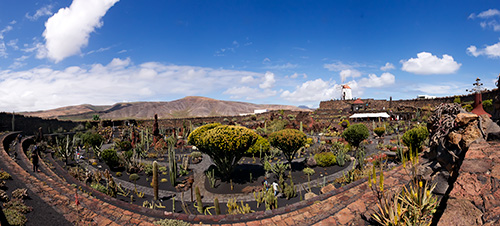 The return was on the coast for a 46 mile ride.
On Friday I rode first up to the Plateau via Macher and stopped for a break at Geria. Then it was down to Yaiza and a stop at Yaiza Church. I already have many pictures of this beautiful church but I wanted to try a different technique, a Vertorama. You have heard of a Panorama, this is the same going upwards. The picture below was 4 HDR pictures combined in Photoshop as before.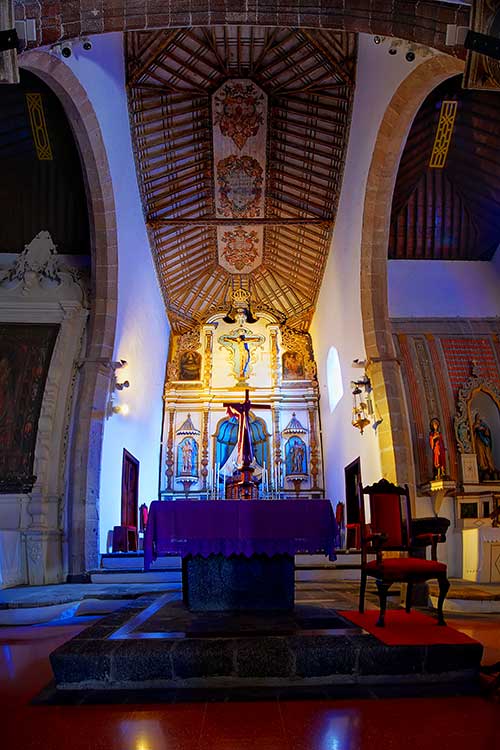 The next picture was an HDR picture of a side alcove.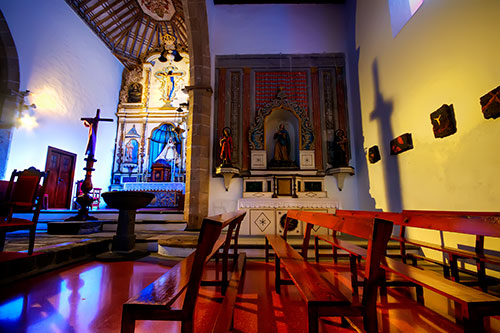 After lunch in the square I continued downhill before turning off on a side road to La Brenas. After a good climb this came out at a roundabout for the start of the super steep climb to Fermes. Close to the top the gradient steepens to 22 percent. I slowed too much, lost balance and fell against a boulder at the side of the road with sharp edges. My right arm hit. No broken bones luckily but about an 8 inch long gash in my arm. The cut looked quite deep and wide but luckily didn't bleed too much presumably because there were not any arteries in the area.
I sat on a boulder to recuperate and squirted water from my water bottle to wash out the wound. After a while I walked up the rest of the hill. The return from here was about 8 miles but mainly downhill so I went on back to base favouring the good arm to avoid more bleeding. I got advice from reception and collected passport and E111 and then a taxi to the Tias Medical Clinic a few miles away. This is modern and spacious. After the usual beaucracy at reception it was straight up to see a nurse who cleaned it and then a Doctor came in and decided stitches were required. 9 stitches were done with a local aesthetic.
I had only planned one more bike ride for Sunday before packing on Monday. However with a twisted knee making itself known during the evening I think I will give that a miss.
I did not take a picture of the accident location but found one from another year's trip showing the boulders presumably intended to stop cars going over the edge.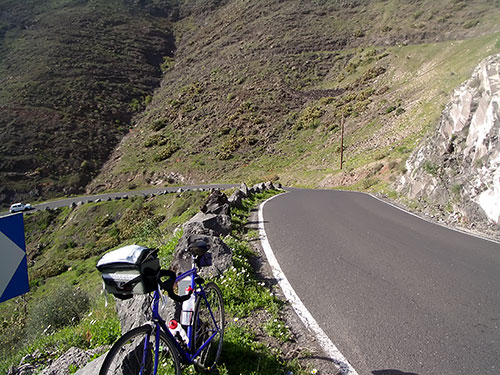 One final and important point is that the Mercian survived the fall without a scratch.
Edwin
Posted by RideLeader at 15:03 BST