Sunday 18th July. Ride to the Putting Green Cafe, Arundel
5 riders met at the Cross on a humid, warm but overcast day - Edwin, David Glue, Sam, Harvey and Avryl. We rode to a second meeting place at Walberton where we were joined by Alan for a short while.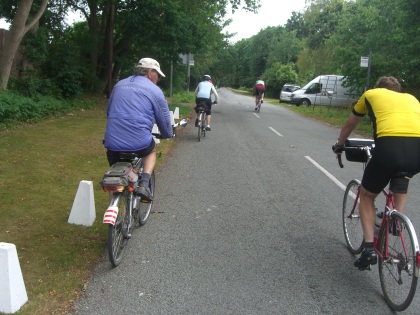 Via Madehurst we rode up to Whiteways where we had coffee alongside an unusually large gathering of motor-cycles of all shapes and sizes.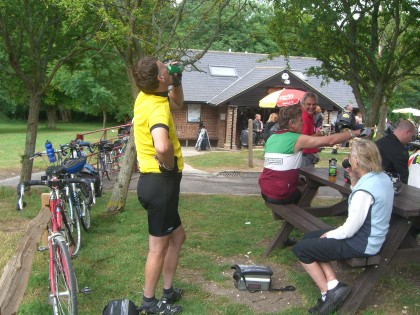 The sun started coming out and a wind was getting up as we zoomed down the hill into Arundel to The Putting Green Cafe where we were joined by Keith. Surprisingly it was very quiet here although the roads had been very busy en route. We managed to bat off a few wasps and were entertained by Sam recounting some of his exploits of which there are many, sparing us no details.

After a long break we set off again in sunshine via part of the Arun path and then Ford road.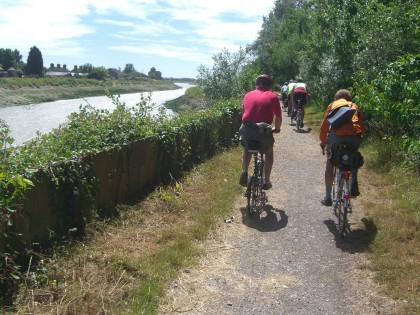 We had a strong headwind to Barnham having decided to investigate a new teashop. We found that it is called "Lily's" and is opposite the Chemists shop. It is open until 3.00 pm on Sundays. We were made very welcome and what thirsty cyclist can refuse tea at 90p a cup!
From here we started splitting up to go back our various ways. The Chichester contingent found themselves in hitherto unknown territory through the pathways and back streets of the city.
Mileage 31 mls. Notes by leader...... Avryl. Photos by Edwin
Posted by RideLeader at 22:06 BST