Sunday 21 June. Ferries Ride to Lee on Solent.
Weather today was sunny spells and cloudy spells though fairly warm at about 19C and a constant NW wind which was quite noticeable in the morning as we rode west to Lee on Solent but which blew us back in the afternoon.
Arthur was the leader and he was joined at the Cross by Lynn, myself (Edwin) Brian, Richard, Alan, Liz and John Wickens. John was joining us for a change of scenery.
The ride is a fair distance and a lot of time is involved waiting for ferries so Arthur took us on a direct route on the A259. Just after Bosham Sam caught us while he was coincidentally heading the same way to Rowlands Castle. We chatted a little before he turned off at Southbourne. We continued to Emsworth and stopped there for an early elevenses at the Greenhouse Café.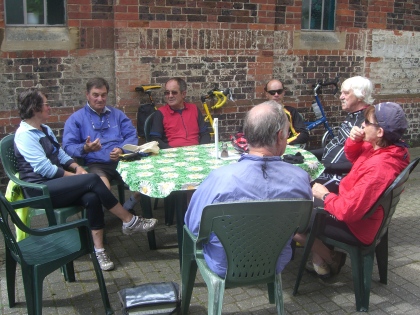 Then it was on to Havant and down the Hayling Billy trail with clear views across the water to Portsmouth and the Spinnaker Tower. We went on to the Hayling Island ferry to Portsmouth which even apart from us seemed to gain far more custom from cyclists than foot passengers. The fare seemed dearer than last year at £4.30 return for passenger with bike. Alan and Liz left us at this point to ride home.
After safely making landfall on the other side we rode along Southsea seafront road with good views of the Isle of Wight. Then it was on to the Gosport Ferry which just left as we arrived to get tickets. We got the next one in 15 minutes. While waiting for the ferry we were joined by another IOW Brian, I think they come in pairs.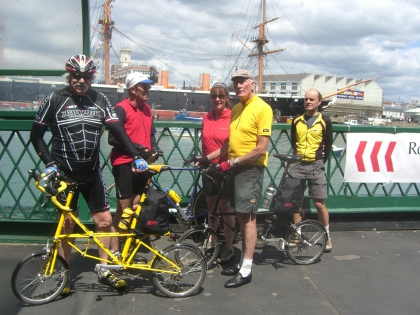 At Gosport it was along the Prom and then past Haslar Hospital, soon to close down and the coast route round Stokes Bay. We stopped for lunch at The Bluebird Café, Lee on Solent.
After refuelling we took a direct route back to Gosport and the ferry arriving there just as it left, again!
After making landfall in Portsmouth Arthur took us through the city streets back to Southsea. Then on to the ferry and a 15 minute wait for it to come over from the other side.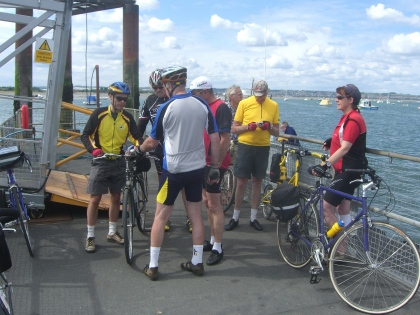 For the return route we headed over to the East side of Hayling and the lanes through to Northney. Last year St Peters Church there had put on very good teas there and it was on their website for this year. However we got there and found they were not doing it this year and had not yet amended their website. We continued a short way to Northney Marina where there was a coffee machine and drinks and snacks in a shop. A good option for a late stop as was now nearly 5.00.
We returned direct to Chichester arriving there about 6.30. Mileage from and back to Chichester was 53 but we spent a good hour altogether waiting for ferries. My mileage was 66.
Edwin
Posted by RideLeader at 22:03 BST