Majorca. Saturday 9 May. Travel Tribulations
Today 10 of us were travelling to Majorca for a 7 day cycling holiday. Avryl , our Organiser, myself (Edwin) Peter, Mike, Jan, Christine, Richard and Elizabeth and Jim and Irene. Sorry no pictures for the moment as I only have the Hotel reception computer. Jim, Irene and Christine were hiring bikes. Mike and Elizabeth were not riding, Jan and Peter brought their bikes in hard cases and Avryl, Richard and I brought our bikes in the transparent CTC bike bags.
On arrival at check-in EasyJet tried to spoil the Party with a jobsworth Queue Organiser telling us that the CTC bags were not allowed and it had to be a box or canvas bike bag. I pointed out to her the their website stated box or bag without specifying the type of bag and that they were Cyclist Touring Club supplied Bike Bags. I asked to speak to her supervisor and after a conflab they eventually caved in and let us through. Of interest is that when I took the bike to the baggage handler at the out of gauge belt he complimented me about how well packed my bike was.
The flight went well as did the 2 minibuses to the Apartment arranged by Avryl. The next attempt by the jobsworth brigade to but a spanner in the works was at the Apartment when we were told the bikes could not be kept anywhere in the Hotel or grounds because they had an agreement with a bike tours organiser excluding independent bikes unless they paid a fee to the bike organiser of 64 euros and they would be breaching their contract. Peter started them wobbling by mentioning we would have to go to another hotel then. I then pointed out that Avryl had booked with another hotel in the same group and we were moved to their hotel because the other hotel had renovations. Our contract was with the other hotel and they had no such arrangement about bikes. The wobble became a collapse and we were allowed to keep the bikes in the rooms but out of sight as the bike company made inspections.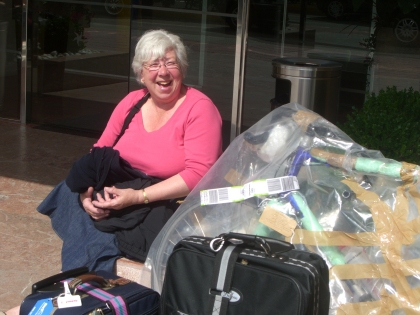 The rest of the day was uneventful with bikes put together and a fine Evening meal.
Edwin
Posted by RideLeader at 22:01 BST
Updated: Monday, 18 May 2009 14:34 BST